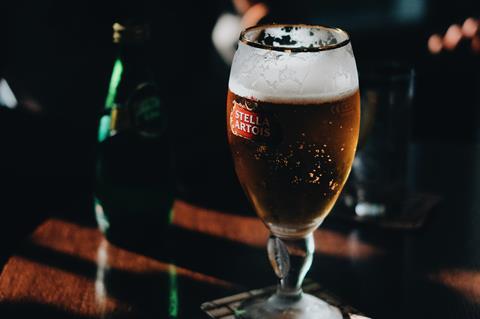 Budweiser Brewing Group is set to launch an unfiltered version of Stella Artois, The Grocer has learned.
Details of the launch are yet to be revealed, but it is understood the drink will roll out in 2022.
Filtering in the brewing process removes yeast, tannins and proteins from beer and is widely used to produce clearer, more shelf-stable products.
However, it has been argued that the process can also strip out essential flavour from the drink.
It comes as unfiltered beers have become a small but increasingly important part of Budweiser Brewing Group's portfolio: it has released numerous unfiltered brews under its Camden Town Brewery brand, for instance, over recent months.
These have included an unfiltered, double dry-hopped American-style pale ale called To The Pub, which rolled out in summer 2020, and most recently Unfussy Lager, an unfiltered 4.9% brew. It also sells an unfiltered version of its core Helles lager.
Despite this, The Grocer understands Stella Unfiltered will not be brewed at Camden's facilities but in its other UK breweries.
It comes on the back of a solid year for Stella Artois – the UK's biggest beer brand. It grew its value sales 13.1% to £729.2m over the year to 15 May 2021 – that's an increase of £84.4m [NielsenIQ].
Last year also saw the Budweiser-owned brand make its debut in the growing low & non-alcoholic drinks category with the launch of the Stella Artois 0%.