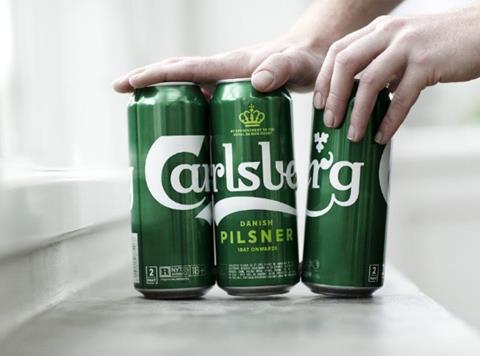 Danish brewer Carlsberg has lifted its profit forecasts for the year thanks to a better-than expected performance in the third quarter and start of the final three months of 2021 as drinkers returned to pubs and restaurants.
Organic revenues increased 7% in the three months to 30 September, with reported growth of 14.4% to DKK 19.7bn (£2.2bn) as acquisitions in the UK and elsewhere boosted the top line.
Volumes rose by 3.4% organically, with a 0.1% dip in Western Europe offset by 7.9% growth in Asia and 2.6% in Central and Eastern Europe.
Revenues in Western Europe jumped 17.1% thanks to the acquisitions of Marston's brewing activities in the UK and Wernesgrüner in Germany, with the Marston's deal pushing up UK volumes by 70% in the quarter.
Stripping out the effect of Marston's, Carlsberg UK volumes rose by mid-single-digit percentages, supported by the reopening of the on-trade channel.
Carlsberg said it expected "a limited impact" from rising costs hitting the industry for the remainder of the year as a result of the group's hedges for its main commodities. Rival brewer Heineken this morning warned its prices would rise as it grappled with supply chain challenges.
Carlsberg upgraded its 2021 earning expectations on the back of the better-than-expected results, with organic growth in operating profits forecast to be in the range of 10-12%, up from 8-11%.
CEO Cees 't Hart said he was "satisfied" with the value and volume growth in Q3.
"Unfortunately, our people, customers and businesses in many markets remain heavily impacted by Covid-19," he added.
"It is encouraging that many beer markets in Europe are recovering from the pandemic, giving people the opportunity to socialise and return to the on-trade.
"We've been very satisfied with the high degree of resilience our business has shown over the past 18 months."
Overall, craft & speciality and alcohol-free brews delivered "solid" growth for Q3 and year-to-date despite the impact of the pandemic.
Craft & speciality grew by 5%, particularly driven by 1664 Blanc and Somersby and with strong growth in markets such as China, Russia, Norway and Denmark.
Alcohol-free brews grew by 10%, with particularly strong growth in Central and Eastern Europe.