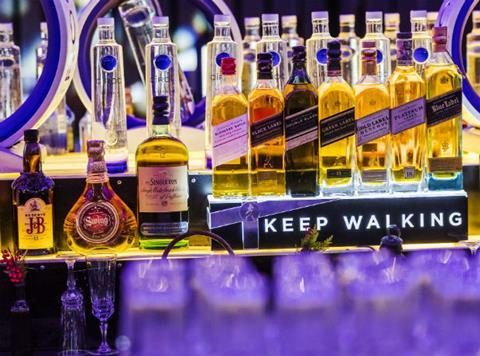 Top story
Diageo has said it has made a "strong start" to its financial year, forecasting an improvement in operating margins as despite supply chain constraints.
Updating the market head of its AGM, Diageo said it had seen organic net sales momentum across all regions in its new financial year as it benefits from resilience in the off-trade and continued recovery in the on-trade.
It pointed to near-term volatility and the continued impact of future waves of Covid-19, but said it expects organic operating margin to benefit from a further recovery in sales volumes, positive channel mix and premiumisation trends.
This recovery will mitigated by rising costs, but Diageo said it is managing rising inflationary pressures, which are partly due to supply chain constraints.
Its North American business is "performing strongly", despite some supply chain constraints, reflecting resilient consumer demand.
In Europe it is recovering ahead of expectations, with off-trade demand remaining robust and good momentum in the on-trade.
Africa, Asia Pacific and Latin America and the Caribbean is also performing well, although volatility in these markets is likely to persist.
Travel retail continues to be disrupted.
Ivan Menezes, Chief Executive, commented: "I am pleased with how our business is performing and I remain confident in our ability to deliver long-term sustainable growth and shareholder value. We will continue to do business in the right way, from grain to glass, for all our stakeholders."
Diageo shares are up 2.6% to 3,653p on the update.
Morning update
Baby boomer ready meals provider Parsley Box has reduced its full year sales and profit expectations as it has been forced to cut marketing spend due to supply chain constraints.
The recently listed group said it has seen 18% year on year revenue growth for the 8 months to 31 August in a trading update this morning.
Revenues were up to £17.8m from £15.1m in the period, while products shipped also grew by 18% in the same period to 7.8 million units from 6.6 million.
However, it said it is experiencing labour issues throughout its supply chain and has been significantly restricted by stock availability at circa 50% of plan.
As such, the board took the "difficult" decision to reduce investment in marketing, and this is likely to continue until the expected short-term supply chain constraints recede.
As a consequence the group now expects full year revenue to be circa £25m, slightly ahead of last year, with a consequential impact on the group's loss before tax.
The company said it remained encouraged by the early signs from the Q3 product releases and will provide a further update ahead of the full year close.
CEO Kevin Dorren commented: "Delivering our product innovation plan remains the focus for the business as we navigate our way through the widely reported supply chain disruption. The second half of the year has been further impacted as we took the disappointing decision to pull back on planned marketing investment. However I, and the Board, firmly believe that Parsley Box's long term growth prospects are unchanged."
Elsewhere, English wine producer Gusborne has posted growth of 63% in the first half, driven by strong direct to consumer sales and a rebound in trade sales.
Net revenue for the period amounted to £1.45m, an increase of 63% on the £0.89m of in the corresponding period last year.
This increase in net revenue for the half year is more than double the annual rate of growth of 27.6% for the year ended 31 December 2020 and net revenue for the full year ending 31 December 2021 are expected to exceed expectations.
It saw further strong growth in sales from Direct To Consumer channels following the significant shift to DTC seen in 2020, with DTC net wine revenue of £381k from £184k last year, more than doubling that of the prior year period.
UK Trade sales have rebounded sharply from their previous decline in 2020 when they were severely impacted by hospitality closures, with net wine revenue at £596k from £223k.
Other income at £162k was up from £54k driven by increased visitor numbers at its cellar door operations in Kent.
International sales of £309k were down on last year's corresponding figure of £429k, partly due to continued travel disruption in the global travel retail sector.
Operating expenses for the six months, excluding depreciation, amounted to £1.77m up from £1.12m, included planned increased expenditure on sales and marketing costs of £1.15m reflecting continuing investment in the growth of the business and its sales beyond the current financial year.
Sales and marketing costs, which are largely discretionary, continue to represent a relatively high proportion of net revenues during this planned growth phase of the business.
As a consequence its adjusted EBITDA loss rose to £0.95m from £0.6m, which were in line with expectations and the long-term growth strategy of the group.
The adjusted EBITDA loss for the full year period is expected to be marginally higher than last year due to higher planned sales and marketing spend designed to promote faster sales growth.
Charlie Holland, chief winemaker and CEO, commented: "We are delighted to report year on year net revenue growth of 63% in the first six months of 2021, despite the challenges presented by COVID-19. We have plans for significant business growth over the coming few years to capitalise on our luxury brand positioning.
"Current trading continues to reflect strong sales growth, and we remain confident about the long term prospects for the business based on continued growth in Direct To Consumer sales, international expansion, and building direct relationships with key customers in the UK hospitality trade."
Finally, EG Group has announced that it has increased hourly rates of pay for 10,500 employees in the UK "in recognition of their hard work and commitment throughout the pandemic".
Increased rates of pay will apply across all of EG's petrol filling stations and foodservice brands in the UK, effective from 1st October 2021.
Staff aged 18 and above will now be paid a minimum of £9.50 per hour, with more experienced colleagues, such as team leaders and supervisors, paid a minimum of £10.00 per hour. These changes represent an average hourly wage increase of more than 5%.
Additionally, EG is further investing in more than 200 existing colleagues ‒ representing over a six-fold increase on its inaugural apprenticeship trial ‒ who will embark on various apprenticeship programmes across the business.
Mohsin Issa CBE and Zuber Issa CBE, co-founders and co-CEOs of EG Group, commented: "Our colleagues have pulled out all the stops and been nothing short of heroic during often very difficult times since the start of the pandemic. It is due to their hard work and dedication that EG has continued to be a growth business, performing strongly over the past 12 months.
"We are grateful to each and every one of them for their contributions and are therefore making a total reward package available to them which we believe is amongst the best in the country."
On the markets this morning, the FTSE 100 is up another 0.6% to 7,151.2pts.
Early risers include Deliveroo, up 3.1% to 302.3p, Greggs, up 2.1% to 3,068p and Glanbia, up 1.5% to €14.29.
Fallers include Parsley Box, which has plunged 21.8% to 77.2p, Science in Sport, down 3.6% to 76.2p and McBride, down 3.5% to 73.6p.
Yesterday in the City
The FTSE 100 jumped 1.1% to 7,108.1pts yesterday to more than mitigate Tuesday's losses.
Risers included Bakkavor, up 9.4% to 135.2p, McColl's Retail Group, up 6.6% to 20.2p, Just Eat Takeaway.com, up 2.1% to 5,628p, Compass Group, up 1.9% to 1,542p, Coca-Cola HBC, up 1.8% t 2,432p and Deliveroo, up 1.5% to 293.2p.
Morrisons was up 1.4% to 296p after the UK Takeover Panel announced there will be an auction for control of the supermarket on Saturday.
The day's fallers included SSP Group, down 5.4% to 274p after the group said yesterday that revenues were down 53% compared with pre-pandemic levels.
Other fallers included THG, down 1.9% to 530p, Greencore, down 1.6% to 144.3p, Parsley Box, down 1.4% to 98.6p, Pets at Home, down 1.1% to 492.4p and Ocado, down 0.8% to 1,668.5p.