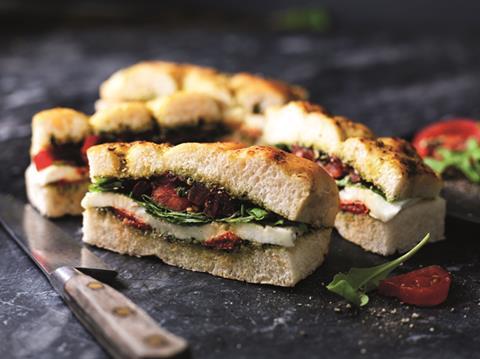 Top story
Greencore has seen further recovery in its fourth quarter to take revenues back above pre-Covid levels and full year operating profits at the upper end of expectations.
Updating the market on its year ended 24 September, the convenience and food to go supplier said there had been further improvement in revenue and profitability during the fourth quarter as demand increased for food to go and it onboarded new business.
Group pro forma revenue was 27% above the fourth quarter of last year and back to 1% above equivalent pre-COVID levels in the fourth quarter of 2019.
Food to go was up 9% year on year and down just 2% on pre-Covid levels, while other convenience food categories were up 2% on 2020 and 10% on 2019.
For the full year, it anticipates a reported revenue of approximately £1.32bn, which is up 6% year-on-year but down 9% on pre-Covid levels as food to go remains 16% down on pre-Covid levels for the full year.
Greencore now expects to generate an full year adjusted operating profit towards the upper end of previous guidance of between £36m and £40m.
It also expects net debt (excluding lease liabilities) at year end to be below £190m, an improvement on previous guidance of below £240m due to strong free cashflow at the end of the year.
Greencore said it is "encouraged" by the progress of the final quarter.
While the well documented supply chain and labour challenges persist across the UK food industry, the group is working closely with customers and suppliers to mitigate the impact and is "engaging intensively" with customers to recover input cost and other inflation
CEO Patrick Coveney commented: "We are pleased with the further improvement in our business in the fourth quarter, in particular the increase in demand across the business and our strong underlying cash generation. I am also excited by the progress we have made in the past quarter on our sustainability journey including the launch of the first fully recyclable, plastic free sandwich skillet.
"None of our progress would have been possible without the energy and dedication of our teams and colleagues who, as throughout the COVID pandemic, continue to do a fantastic job. Greencore has a strong position in the dynamic UK convenience food market and, looking forward, we remain confident in our medium-term prospects."
Greencore shares have fallen 3.1% on the news back to 136.90p.
Morning update
Frozen food giant Nomad Foods has lowered its sales forecasts as supply chain chaos and rising costs sting the frozen food supplier.
Nomad announced yesterday evening it has completed its previously announced acquisition of Fortenova Group's frozen food business for a purchase price of approximately €615m.
As part of the release CEO Stefan Descheemaeker said the group now expects a "modest organic revenue decline" versus the prior year, with the company previously guiding to growth of 1%-2%.
Descheemaeker said the downgrade was due to normalising category trends and that growth was still expected to be in the mid-single digital range on a two-year compounded basis.
"Our brands are in strong health, our market share is expanding, and we are well positioned to sustain long-term growth," he said.
He also said that profitability is tracking at the higher end of guidance range despite the anniversary of elevated demand resulting from COVID-19, the re-opening of Europe, a dynamic inflationary backdrop and supply & logistics constraints.
"We are adapting to the post-pandemic environment while navigating macro challenges facing the broader packaged food sector," he said.
On the Fortenova acquisition he said: "Fortenova Frozen has performed well in 2021 and we expect the strength of our combined organizations to create value for years to come, building on a solid foundation underpinned by market leading brands, operational excellence and a strategic focus in frozen food."
Based on strong performance year-to-date, Fortenova Frozen is expected to achieve mid-single digit revenue growth and Adjusted EBITDA slightly ahead of the prior expectation of €53m in 2021 on a full year basis.
Management continues to see an opportunity for Adjusted EBITDA to grow by approximately 50%, driven in part by an estimated €15 million of annual run-rate synergies by 2024.
For the whole group, management is reiterating adjusted EPS guidance of €1.50 to €1.55, representing 11-15% growth, despite the incremental inclusion of a seasonal operating loss from Fortenova Frozen during the remaining three months of 2021.
Elsewhere, Philip Morris has announced it has received approval from 96.9% of Vectura shareholders for its controversial takeover of the UK-listed pharma company.
On 16 September 2021, PMI announced its offer had become unconditional in all respects – it has now received acceptances of 419,849,226 Vectura Shares representing approximately 68.39% of the Vectura shares currently in issue and therefore 96.9% of total shares given its own 28.5% existing shareholding.
Vectura shares will be delisted on 19 October after the acquisition.
Ocado has successfully priced an offering of £500m corporate bonds, having increased the size of the offer.
It has issued £500m of senior notes due 2026 at a coupon of 3.875%. Due to strong demand, the offering was upsized from the originally anticipated size of £400m and is expected to close on 8 October.
Concurrently, Ocado expects to complete the redemption of all of its outstanding 4% senior secured notes due 2024.
Ocado said this financing is intended to extend the maturity profile of Ocado's debt by refinancing the existing notes and to provide additional funding to be used principally for capital expenditure.
On the markets this morning, the FTSE 100 is down another 0.6% to 7,040.7pts.
Risers include AG Barr, up 2.9% to 531.8p, FeverTree, up 1.8% to 2,371p and Bakkavor, up 1.8% to 136.4p.
Fallers so far today include McColl's, down 6.6% to 19.3p, McBride, down 2.9% to 73.2p and Marks & Spencer, down 2.6% to 178.8p.
Yesterday in the City
The FTSE 100 ended the day down 0.3% at 7,086.4pts to give back some of Wednesday's gains.
Shares in recently listed Parsley Box collapsed by 38.1% yesterday back to 61p after it downgraded sales and earnings expectations due to it cutting marketing amid capacity and supply chain restraints.
Other notable fallers included British American Tobacco, down 4.8% to 2,604p, THG, down 4.3% to 507p, Just Eat Takeaway.com, down 4.1% to 5,398p, Marks & Spencer, down 3.7% to 1,860p, Associated British Foods, down 3% to 1,860p, Premier Foods, down 3% to 116.6p, Greencore, down 2.2% to 141.2p and AG Barr, down 2.1% to 517p.
The day's few risers included Diageo, which rose 1.3% to 3,606p after it said it has made a "strong start" to its financial year, forecasting an improvement in operating margins despite supply chain constraints.
Other risers included McColl's Retail Group, up 2.2% to 20.6p, PayPoint, up 1.1% to 710p, SSP group, up 1% to 276.8p and Glanbia, up 0.7% to €14.18.