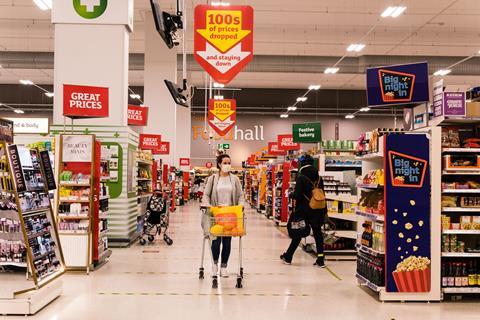 Top story
Grocery sales continued to fall in July, but the rate of decline has slowed as consumers slowly return to pre-pandemic shopping patters, according to the latest grocery market share data from Kantar.
Kantar found that take-home grocery sales fell by 4% during the 12 weeks to 8 August 2021.
However, that sales decline moderated to 0.5% over the past four weeks.
Notably, grocery sales remain 9.9% higher than in the corresponding 12 week period in 2019, suggesting Covid-19 is still having an impact on people's spending, Kantar said.
Fraser McKevitt, head of retail and consumer insight at Kantar, said: "In monetary terms at least, we seem to be in a similar place to 12 months ago, but if we dig deeper into the data we can see that our shopping habits are actually very different.
"With the end of social distancing restrictions people have been happier to head into stores to make more regular, smaller shops. Consumers made an extra 108,000 shopping trips this month, while average basket sizes were 10% smaller."
The gradual return to more traditional behaviour is also affecting online grocery sales. Just over 20% of the population bought groceries online in the latest 12 weeks, the lowest level seen since October last year, while the share of grocery sales made online now stands at 13.0%, down from a peak of 15.4% in February.
On an individual retailer basis, Tesco was the strongest performer of the big four supermarkets, with sales down 1.8% in the 12 week period and up 10.8% from 2019.
Sainsbury's was down 2.6% (up 8% from 2019), Asda down 4.7% (up 4.4% from 2019) and Morrisons down 6.2% in the period (up 8.8% on a two year basis).
Waitrose was the only grocer to grow its sales during the period, with 12-week sales up 0.6%.
Aldi and Lidl saw declines of 1.3% and 2.1% respectively, while the Co-op had the largest individual decline as sales fell 10.5% (albeit up 9.6% on a two year basis).
The shift away from online contributed to Ocado's sales falling by 0.7%, its first decline on record.
Like-for-like grocery prices have been falling since April this year and the trend continued over this 12-week period as they dropped by 0.8%. However, the past four weeks paint a slightly different picture with inflation growing by 0.4%.
McKevitt added: "Although relatively low, this four-week level of inflation would still add £19 to the average household's annual grocery bill. It's expected that inflation will rise again in the coming months, and as a result we'll likely see shoppers seeking to tighten the purse strings and save where they can."
Morning update
Just Eat Takeaway.com revenues surged by more than 50% in the first half of the year, but the takeaway delivery company posted huge losses due to heavy investment in growth.
In the first six months of 2021 Just Eat's revenue on a combined basis grew by 52% to €2.6bn compared with €1.8bn in the first half of 2020.
In the United Kingdom, Just Eat processed 135 million orders in the first six months of 2021, representing a growth rate of 76% compared with the same period last year. Delivery orders for the first six months of 2021 grew more than 700% compared with the same period last year.
The average monthly order frequency in the UK reached 3.2 times, up from 2.5 times a year ago.
However, it plunged to an adjusted group EBITDA loss of €190m compared to a profit of €205m in the same period a year ago, which it said reflected significant investment in the company.
It said 2021 had seen strong investment predominantly in the historically underinvested legacy Just Eat markets. It spent heavily on expansion and roll-out of its delivery services, brand awareness and customer experience and value proposition, including price leadership.
These investments, it said, have led to superior growth, and increased online share gains in many markets, including the UK and Australia.
Jitse Groen, CEO of Just Eat Takeaway.com commented: "In the first six months of this year, Just Eat Takeaway.com continued to invest significantly, predominantly in the historically underinvested legacy Just Eat countries.
"Our consumer base, restaurant selection and order frequency have strongly increased, which will lead to improved profitability going forward."
Just Eat said that, given the widening of the price gap in consumer delivery fees versus its competitors, the company has more flexibility to improve its adjusted EBITDA going forward.
While the benefits from this development will already be visible in the second half of the year, it said it will continue to invest significant amounts "in providing the best and most affordable service to its consumers across the world".
It said the first half represented the peak of its absolute losses. Improved profitability will now be driven by the growth and increased scale of the business, flexibility from the widening price gap, product and technology improvements, operational efficiencies, as well as fee caps which are expected to partly fall away going forward.
Away from the UK, its German business generated €94m of adjusted EBITDA, up 63% from €58m in the same period of 2020, while overall orders were growing by 62%.
In the United States, Grubhub processed 134 million orders in the first six months of 2021, representing a growth rate of 27% compared with the same period in 2020.
Full year guidance was reiterated, with GTV (including Grubhub) expected to by €28bn-€30bn and order growth (excluding Grubhub) above 45% year-on-year.
Adjusted EBITDA margin is expected to remain negative, in a range of minus 1% and minus 1.5% of GTV.
Just Eat Takeaway shares were up 2.1% to 6,261p in early trading.
Elsewhere, Treatt has announced that non-exec direction Jeff Iliffe will step down from the board on 25 February 2022.
By the time he leaves he will have served as a non-exec director and chair of the audit committee for nine years, after which point, he would no longer be classed as independent under the UK Corporate Governance Code.
Iliffe commented "I would like to congratulate everyone at Treatt for the huge progress they have made over the period that I've been on the board. The positive culture which has been developed is outstanding and has underpinned successful diversification into growing markets, and the delivery of a significant investment programme targeted at driving future growth. These are exciting times for the company and I look forward to their continued success."
Tim Jones, chairman, added: "I would like to express the thanks of the Company and the Board to Jeff for his dedication to Treatt since 2013 and for the superb contribution he has made to the Board and Audit Committee, which we will miss. We look forward to continuing to work with him until February 2022 and wish Jeff and his family well for the future."
On the markets this morning, the FTSE 100 has fallen back another 0.1% to 7,144.2pts so far today.
Early risers include Kerry Group, up 1.6% to €123.20, McColl's, up 1.4% to 21.1p and Bakkavor, up 1.4% to 118.4p.
Fallers include Nichols, down 2% to 1,382p, Finsbury Food Group, down 2% to 90.7p and Parsley Box, down 1.7% to 126.8p.
Yesterday in the City
The FTSE 100 started the week on the back foot, dropping 0.9% back to 7,154pts.
Fallers included McColl's, which dropped a further 5.5% to 20.8p after last week's share issue to raise funds to expand its Morrisons store estate.
Other fallers included Kerry Group, down 3.7% to €121.30, WH Smith, down 3.1% to 1,622.5p, Hotel Chocolat, down 2.7% to 360p, THG, down 2.2% to 568p, Cranswick, down 2% to 4,064p, Bakkavor, down 2% to 116.8p and Greencore, down 1.9% to 130.2p.
The day's few risers included Coca-Cola HBC, which rose 1.6% to 2,709p, FeverTree, up 1.4% to 2,359p, Ocado, up 1.4% to 1,804p, Naked Wines, up 1.3% to 839p and Deliveroo, up 0.8% to 388.8p.