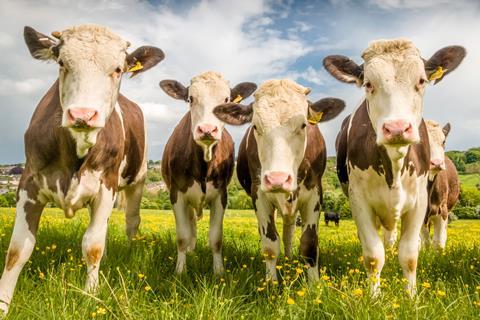 A new report from KPMG has warned a widely-backed 'net zero by 2045' greenhouse gas emissions target for Northern Ireland could devastate the nation's food sector.
KPMG's report found the target could lead to 13,000 job losses – a 54% decrease in farm-related employment – and an £11bn drop in the nation's economic output. It also called into question whether such a move would in fact reduce emissions.
Its analysis of the bill's aims suggested agricultural emissions would have to be cut by 84% from their current figure of 6.59 million tonnes of CO2 or equivalent emissions to 1.19 million tonnes of CO2e by 2045.
This would see herd reductions of 86% for dairy, beef and sheep and 11% for poultry and pig farmers, presenting the risk of emissions being exported to countries with less carbon efficient systems should demand for meat and dairy not reduce.
The report – which was commissioned by Northern Ireland's agri-food sector, including the Ulster Farmers Union and Dairy Council NI – was published in response to a Northern Ireland Assembly private members bill by Green Party MLA Clare Bailey, which has cross-party backing at Stormont.
Aiming to make Northern Ireland's target more ambitious than the UK-wide 2050 net zero target, the bill would see five-year climate action plans introduced, as well as the establishment of an independent Northern Ireland climate commissioner and climate office that would monitor progress.
KPMG stated while the bill's 2045 target was "clear", it did not indicate "the scale and magnitude of actions required for each sector of the economy" and had not provided an economic impact or rural needs assessment – gaps it said it had been commissioned to fill.
UFU president Victor Chestnutt said while Northern Ireland's agri-food sector accepted emissions reduction was necessary, legislation needed to be "fair and credible" rather than "vote-chasing".
"Northern Ireland needs climate change legislation that is backed by science-based evidence supporting local farmers in their efforts to reduce emissions without diminishing our ability to produce food to world-leading standards," he said.
"KPMG's report undeniably shows the bill fails to deliver the climate change policy Northern Ireland needs to combat emissions appropriately. Instead, it will cause devastation for rural families and communities, and the NI economy as a whole."
Chestnutt's comments were backed by Dairy Council for Northern Ireland CEO Mike Johnston, who said the bill would "wipe out" family-run cattle and sheep farms.
"Unless consumers' eating patterns change, dairy and meat produced to lower standards will be imported from other countries to replace high-quality local produce. It would cause carbon leakage with no benefit to greenhouse gas emissions or global warming and increase levels of food poverty."
Both the Northern Ireland Executive's Department of Agriculture, Environment and Rural Affairs and the bill's sponsor, Clare Bailey, have been approached for comment.