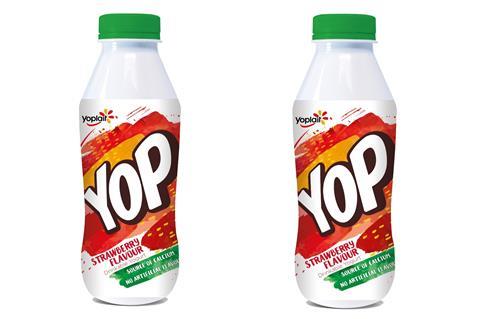 Yoplait has confirmed it is moving its Yop bottles away from white PET plastic after criticism about their recyclability by comedian Joe Lycett.
In a TV stunt by the comedian on Channel 4 show Steph's Packed Lunch in July, he declared he had stopped using white plastic as it was harder to recycle, before a photograph was shown of him with a bottle of Yop in the background.
When host Steph McGovern confronted him about his apparent hypocrisy, he took off his microphone and appeared to storm off set.
Posting on social media a day later, Lycett revealed it had been a planned stunt aimed at highlighting the difficulty of recycling white PET by generating widespread media coverage.
"Clear PET plastic bottles are widely recycled and contribute to the circular economy. If you put a clear PET plastic bottle in the recycling, there's a good chance it will become another clear PET plastic bottle. Coloured and in particular white PET plastic bottles are much harder to recycle," he wrote.
"I risked my reputation as a jolly, affable and very-much-available chatshow guest to say this as loud as I can: Yop, it's time to stop using white PET plastic. What you sayin' Yop?"
Today (16 August), Yoplait confirmed from next year bottles of the yoghurt drink are to be made from clear PET plastic, with Yoplait adding it would aim to include recycled plastic in them. The company stated it had been working on the packaging improvement in advance of Lycett's stunt.
"Yop bottles are recyclable. The bottles can be recycled and made into synthetic fibres for products like fabrics and textiles. However, we are also exploring the option of moving towards a clear plastic bottle," said a spokeswoman.
"Packaging plays an important role in preserving the safety, nutrition and quality of the food that we make. As we work towards increasing the recyclability of our Yop bottles, we also need to be certain the product inside stays perfectly protected. Our priority is to find the right balance for both."
Yoplait added 72% of its packaging across its European business was recyclable and it was working towards making its portfolio fully recyclable by 2025.
In response to the move, Lycett – who hosts consumer campaign series Joe Lycett's Got Your Back, which returns to Channel 4 on Thursday (19 August) – posted on Instagram he was "beyond delighted" and "the world – or at least the world of chilled yoghurt drinks – has been changed for the better".