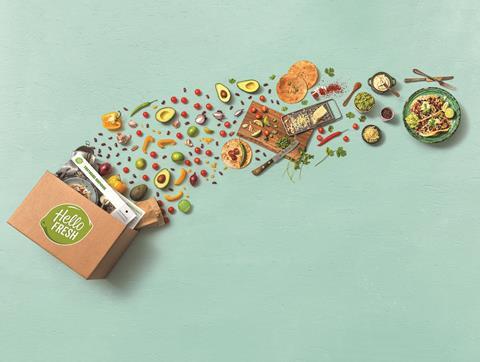 Top story
Meal kit supplier HelloFresh has upped its full year sales forecast after continued strong customer and revenue growth in its third quarter.
In the three months to the end of September, the company saw year-on-year revenue growth of 45% on a constant currency basis following a "more normal" summer compared to the same period in 2020.
Total sales were up 44.9% to €1.4bn in the period.
Its key market of the US was up 50% to €789.3m, while the rest of its business was up 41.1% to €626.1m
Growth was mainly driven by a significant increase in active customers (38.8%) and strong customer engagement illustrated by high order rates and an increase in average order values.
HelloFresh group's contribution margin reached 22.5% in Q3 2021, primarily a result of the company's ongoing capacity ramp-up, the return of normal summer seasonality and, to a lesser degree, some inflation in certain cost categories.
The third quarter's AEBITDA margin amounted to 5.6%, with AEBITDA falling 30.4% to €79.8m due to continued investment.
Based HelloFresh's strong revenue growth year-to-date including October, the company has increased full year 2021 revenue growth outlook on a constant currency basis from previously between 45% and 55% to now between 57% and 62%.
Based on current exchange rates, this would translate into a euro-reported revenue growth of approximately two to three percentage points lower than the revenue growth on a constant currency basis.
Adjusted EBITDA margin outlook remains between 8.25% and 10.25%.
Dominik Richter, co-founder and CEO commented: "In Q3 2021 we have continued to invest heavily into our product and service levels, significantly improving the value proposition for our customers. We have also doubled down on the ongoing expansion of our production capacity to create the right platform for strong long-term growth. In addition, we further expanded our total addressable market by successfully launching HelloFresh in Norway in July and in Italy in October.
"With all of these investments in place, we remain focused on reaching our mid-term revenue target of €10 billion and on paving the way to becoming the world's leading food solutions group."
Notable recent initiatives include launching HelloFresh in Italy and closing the acquisition of Australian ready-to-eat company Youfoodz. Furthermore, the company recently announced its acquisition of an approximately 10% stake in Russia's leading meal kit company, Chefmarket.
Hellofresh shares are up 14.4% to €80.36 so far this morning, having recently fallen back from an all-time high of €97.38 in August.
Morning update
Household goods and appliances manufacturer Ultimate Products has reported a 17.9% jump in full year revenues as consumer shifts to working and cooking at home boosted trading.
Total revenues for the year to 31 July were up 17.9% to £136.4m, boosted by online revenues which grew by 23.2% in the period to £20.6m.
It said its brands "continue to resonate very well" with supermarket customers in the UK and Europe, which delivered sales growth of 32.3% to £37.2m and accounted for 27.3% of total revenues (up from 24.3%).
International revenues grew by 4.4%, with Germany driving overall growth as sales increased 26.8% but offset by Covid lockdowns elsewhere.
Underlying EBITDA was also up 28.3% to £13.3m, with underlying profit before tax up 36.6% to £11.2m and statutory pre-tax profits up 13.7% to £9.5m.
CEO Simon Showman commented: "Once again, we are pleased to have demonstrated Ultimate Products' resilience and adaptability against the extremely challenging background of the COVID-19 pandemic. While protecting the business and colleagues, as well as continuing to grow and innovate, we have increased support for our local communities, targeting help at those who have been most disadvantaged by the crisis.
"Undoubtedly, these achievements have been aided by our flexible model and strong balance sheet, but the key driver has been the remarkable response of colleagues to these exceptional circumstances.
"As restrictions ease, it is becoming clear that the pandemic has ushered in structural changes to consumer behaviours, which are to the benefit of Ultimate Products and that we believe are here to stay. More home working and home cooking, a greater emphasis on hygiene and cleanliness, and a more considered approach to spending all complement our long-standing strategy of developing and building our portfolio of brands that focus on mass-market and value-led consumer goods for the home. The board therefore remains confident in the Group's long-term prospects."
The group completed the acquisition of Salter Brands from FKA Brands Limited on 15 July 2021 and has fully integrated the kitchen products maker, which will be "significantly earnings enhancing" from 2022.
It has also acquired PETRA, the German kitchen electrical brand, which will be relaunched and refreshed, before initially entering the German market, followed by launches into other territories.
Devro has announced the appointment of Rikke Mikkelsen as an independent non-executive director with effect from 1 December 2021, also becoming a member of the audit, remuneration and nomination committees from that date.
Mikkelsen, a chemical engineer, currently leads the Global Centre of Excellence for Chocolate and Confectionary and the European Customer Innovation team at Scandinavian-headquartered AAK, which specialises in the development of ingredients for global consumer food and nutrition products. His role at AAK is the most recent position in a broad-ranging career spanning over 30 years in research and development with global companies focused on delivering innovative solutions in the food sector.
She will succeed Chantal Cayuela who has decided, on personal grounds, to retire as a non-executive director with effect from 30 November 2021.
Devro chairman Steve Good commented: "I am delighted to welcome Rikke to Devro's board of directors. She brings extensive experience of successful product innovation in international food manufacturing businesses and will add valuable skills and insights to support the further development and execution of the Company's growth strategy. On behalf of the board, I also want to thank Chantal for her important contribution during her short time with us and wish her well for the future."
On the markets this morning, the FTSE 100 has lost 0.6% so far this morning to fall back to 7,247.5pts.
Risers include 2.8% to €115.65, Nichols, up 2.7% to 1,135p and Parsley Box, up 2.7% to 57p.
Fallers include THG, down another 6.1% to 204.2p, Virgin Wines, down 4.2% to 188.8p and Glanbia, down 3% to €13.97.
Yesterday in the City
The FTSE 100 started November on the front foot, rising 0.7% to 7,288.6pts yesterday.
Risers included FeverTree, up 4.5% to 2,371p, Pets at Home, up 2.7% to 495.6p, Marks & Spencer, up 2.7% to 188.6p, Glanbia, up 2.4% to €14.40, C&C Group, up 2.2% to 264.8p and SSP Group, up 1.9% to 262.4p.
The day's fallers included Naked Wines, down 7% to 690p, Nichols, down 6% to 1,105p, Kerry Group, down 4.3% to 112.6p, McColl's Retail Group, down 3% to 19.4p, Ocado, down 2.7% to 1,755p and Sainsbury's, down 1.6% to 294.7p.