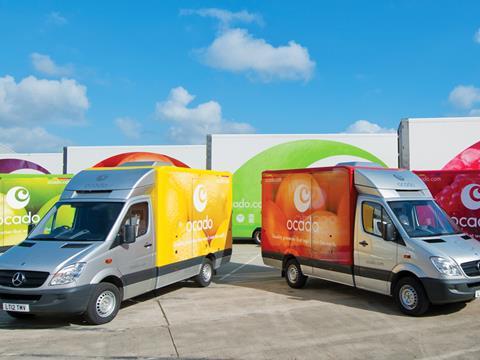 Top story
Ocado Retail has announced a 10.6% drop in third quarter revenues as it suffered the effects of a fire at its Erith customer fulfilment centre and exceptional strong comparatives from 2020.
Ocado said the figure represented "encouraging" trading despite the drop, given it had grown by 54% in the third quarter last year.
Over the first 6 weeks of the quarter, the business was performing in line with expectations, with revenue marginally down 1.8% reflecting the strong 2020 growth which had driven exceptional demand during typically softer summer months.
However, the Erith fire took place at on 16 July caused disruption, meaning revenue declined by 19% in the remaining seven weeks of the quarter.
In addition to the need to cancel orders in the week following the fire, the temporary reduction in capacity reduced our ability to offer slots to new customers.
Taken together, and net of the offsetting benefit of increasing capacity at other CFCs, Ocado estimated that in the period it lost a total of around 300,000 orders, or around £35m of revenue, due to the temporary disruption.
Total retail revenues for the period were £517.5m compared to £578.8m last year, albeit it remained 38% and £142m ahead of sales in Q3 2019.
Overall Ocado said it saw record customer acquisition levels of 64k new customers, to 805k customers, driving positive trends in customer order growth. Orders per week increased 22% in the pre-fire period while the value of the average basket continued to normalise to £124, down 12% compared to £141 in Q3 2020.
Looking forwards, Ocado said its CFCs at Hatfield and Dordon have increased capacity and new capacity at Andover and Purfleet is now available, taking total capacity to just over 600,000 orders per week.
Ocado said this additional capacity is helping to offset temporary additional safety measures it has put in place at Erith, where it now expects pre-fire capacity to be fully restored by the end of November in time for Christmas trading.
Ocado also intends to increase capacity even further and announced that additional CFC capacity will open over 2022-23 with a new CFC planned in Luton (65k orders per week) in addition to Bicester (30k OPW), extending total capacity even further to around 700,000 orders per week.
However, operating losses during the second half due to the business disruption, primarily lost orders, caused by the fire are estimated to be around £10m as the CFC ramps back up to full capacity.
These losses will adversely impact reported EBITDA for the current financial year.
In addition, the impact of stock and fixed asset write-offs and other incremental costs associated with the fire are estimated to also be around £10m net of insurance payouts.
Ocado also pointed to rising costs of labour, particularly for LGV and delivery drivers, which represent "an increasingly important issue for the industry that may result in up to £5m of impact to full year numbers" reflecting additional measures being taken to hire new staff including raising hourly rates and offering signing-on bonuses.
Ocado Retail CEO Melanie Smith commented: "There is so much to celebrate at Ocado Retail. On 1st September we marked the one-year anniversary of delivering M&S food to customers, marking a transformational partnership between two iconic British brands. We are delighted to see such a positive response from customers to these M&S products, which now represent 29% of the basket.
"We're also excited that the go-live of new state-of-the-art robotic customer fulfilment centres at Andover and Purfleet will significantly increase our capacity to serve customers and experience Ocado's outstanding range, value and service. We are looking forward to another bumper Christmas and an exciting year of growth in 2022".
Tim Steiner, chairman of Ocado Retail, added: "Despite the challenges we faced in the period, I am delighted to report that Ocado Retail is performing well, improving the customer experience even further and continuing to grow the business in a post-lockdown environment. I would like to pay tribute to the efforts of all my colleagues who worked so hard to get Ocado back to business so quickly following the fire in Erith.
"With a market leading customer offer and technology, we are confident Ocado Retail will continue to grow market share as we help them to roll out even more capacity and we look forward to Christmas and delivering strong growth in the new financial year, with our long term outlook as compelling as ever."
Ocado shares are down 2.8% to 1,833.5p so far this morning.
Morning update
Clayton, Dubilier and Rice has agreed terms with the trustees of Morrisons pension funds over a package of measures to "provide additional security and covenant support to the schemes".
Whilst the schemes are currently in surplus on an ongoing funding basis, the schemes currently do not have sufficient resources to secure, or "buy out", Scheme benefits with an insurance company.
This package agreed with CD&R includes additional security to be contributed to the existing pension funding partnership structure in the form of further properties with an appropriate release mechanism to allow for a gradual release of that additional security as the schemes progress towards "buy out", together with enhanced governance provisions in respect of the Schemes.
The trustees "look forward to finalising the contractual details with CD&R ahead of the shareholder meeting in order to secure additional protection for members' benefits under the schemes".
The trustees said they consider that the package of mitigation measures, once contractual details are finalised, will provide sufficient and appropriate support for the Schemes.
Steve Southern, chairman of the trustees, said: "We are pleased with the progress made and CD&R's ability to provide the necessary support and reassurance to the Schemes. CD&R has been proactive in its engagement with the Trustees, with discussions progressing positively and decisively, delivering a positive outcome for all members of Morrisons' pension schemes."
Sir Terry Leahy, Senior Adviser to CD&R funds, added: "We are delighted to have reached agreement with the Trustees, providing additional security and covenant support to the Schemes. We thank the Trustees for their constructive engagement, and the positive outcome underscores CD&R's approach as a responsible investor and emphasises the respectful approach CD&R would take to its wider stakeholder responsibilities and commitments."
Commenting on the agreement, Andrew Higginson, Chair of Morrisons, said: "The Morrisons board is pleased that the Trustees and CD&R have engaged constructively and have now reached an agreement, which safeguards the interests of the members of Morrisons' pension schemes."
Elsewhere, the latest take-home grocery figures from Kantar show sales fell year on year by 1.9% during the 12 weeks to 5 September 2021 as pandemic shopping behaviour continues to normalise.
Sales remain 8.7% higher than pre-COVID levels, reflecting that the impact of the pandemic is still being felt on the market, but sales were down across most spermarkets.
The multiples saw sales drop 1.6% overall, with Tesco in growth of 0.2% while big four rivals all lost sales as Sainsbury's fell 1.6%, Asda 2.8% and Morrisons 4.9%.
Aldi and Lidl bost lost sales of 0.4% and 0.7% respectively, while pandemic winners the Co-op and Iceland shed 5.6% and 3.5% of sales respectively.
Waitrose bucked the trend, with sales up 2.2% in the period.
Fraser McKevitt, head of retail and consumer insight at Kantar, says: "There are big lifestyle changes on the horizon with commuters heading back to the office and the return to school this autumn, and we'd expect this to impact how people shop.
"In the first week of September we measured the highest supermarket footfall all year outside of the Easter period with more people out and about picking up items as they go. That suggests a hint of change, and could see shoppers shun the 'big shop' in favour of more frequent top up buying. But we shouldn't expect to shift from habits learned in lockdown straight back to pre-COVID patterns overnight. It's most likely that the needle will settle somewhere in between."
He said the trend away from large shops is already happening on digital platforms, with the average online shop now worth £78.28, nearly £17 less than its peak at the start of the pandemic. The market share of online grocery has fallen to 12.2% this month from 13% four weeks ago – the lowest level since May 2020 as people continue to move their spend back in-store.
Like-for-like grocery prices rose by 1.3% in the past four weeks compared to last year. Fraser
McKevitt said: "For much of 2021 shoppers have been shielded from price increases, with more being sold on promotion this year compared to 2020. But in the past month only 27.5% of spending was done on deals. Other than the early days of lockdown last year, that is the lowest level recorded in the fifteen years which we have tracked this data, with retailers aiming to offer everyday low prices instead."
Grocery inflation now stands at 0.1% for the 12-week period ending 5 September 2021, with prices rising fastest in markets such as savoury snacks, cat food and ambient cakes and pastries while falling in fresh bacon, vegetables and ambient cooking sauces.
Kerry Group has announced that it has completed the acquisition of Niacet from SK Capital Partners, and other shareholders for €853m (US$1bn) on a cash-free, debt-free basis.
The acquisition was first announced on 21 June 2021. Niacet, a global market leader in technologies for preservation, will now be integrated as part of Kerry's global food protection and preservation platform.
On the markets this morning, the FTSE 100 has fallen back 0.6% to 7,026.6pts.
Early fallers, alongside Ocado,include AG Barr, down 1.7% to 535.8p, Diageo, down 0.9% to 3,501p and Imperial Brands, down 0.8% to 1,526p.
Risers include Glanbia, up 3.2% to €14.85, McColl's Retail Group, up 1.9% to 19.7p and WH Smith, up 1.8% to 1,593p.
Yesterday in the City
The FTSE 100 clawed back 0.6% yesterday to mitigate recent falls and end the day at 7,068.4pts.
Associated British Foods fell 2.4% yesterday to 1,923.5p despite announcing higher than expected fourth quarter profits as Primark sales fell short of expectations.
Risers included WH Smith, after news emerged activist investor Causeway Capital has become its largest shareholders, up 3.8% to 1,564.5p.
Other risers included Nichols, up 3.8% to 1,452.5p, Science in Sport, up 2% to 76p, SSP Group, up 1.7% to 265p, McBride, up 1.5% to 80.4p, Unilever, up 1% to 3,998p and Premier Foods, up 0.8% to 122.2p.
Other fallers included Naked Wines, down 4.7% to 818p, Deliveroo, down 3.3% to 332.8p, Glanbia, down 2.6% to €14.40, Associated British Foods, down 2.4% to 1,923.5p, Coca-Cola Europacific Partners, down 2.2% to €49.28, Kerry Group, down 2.2% to €122.65, PayPoint, down 2.1% to 685p and Hilton Food Group, down 2.1% to 1,100p.