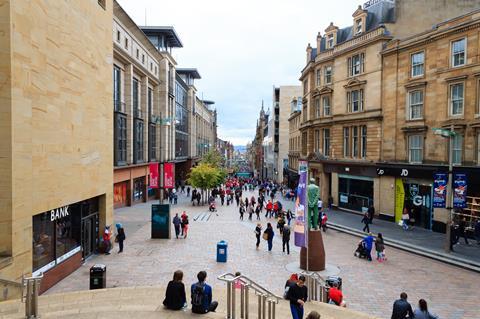 Top story
Retail sales were down once more in August as the return of the hospitality industry hit food sales.
Retail sales volumes fell 0.9% in August according to the Office of National Statistics, following a 2.8% fall in July.
However, volumes were up by 0.3% in the three months to August compared with the previous three months, and were 4.6% higher in August than their pre-coronavirus pandemic February 2020 levels.
Food store sales volumes fell by 1.2% in August 2021, with the ONS pointing to some evidence to suggest that the further easing of hospitality restrictions had an impact on sales as people increased their social spending such as eating and drinking at restaurants and bars.
Despite the monthly fall, food store sales volumes are still 3.4% above pre-coronavirus pandemic levels in February 2020.
Non-food stores reported a fall of 1.0% in sales volumes in August 2021, driven by falls in department stores (negative 3.7%) and other stores, such as sports equipment and computer stores (negative 1.2%).
Automotive fuel sales volumes rose by 1.5% in August 2021 as people continued to increase their amount of travel; however, they remained 1.2% below their pre-pandemic February 2020 levels.
The proportion of retail sales online rose to 27.7% in August 2021 from 27.1% in July, substantially higher than the 19.7% in February 2020 before the pandemic.
Retail sales values, unadjusted for price changes, fell by 0.3% in August 2021, following a 2.4% decline in July. Over the last three months to August 2021 they are up 7.3% on the same period a year earlier, reflecting annual retail sales implied price deflation of 3.3%.
Looking at supply chains, the ONS found that 6.5% of retail businesses reported they were not able to get the materials, goods or services needed from within the UK in the last two weeks. This compares with 7.1% across all industries. Department stores reported the largest percentage at 18.2%, followed by clothing stores at 11.1%.
Another 8.9% of businesses in the retail industry reported they were able to get the materials, goods or services they needed from within the UK in the last two weeks, but had to change suppliers or find alternative solutions. Over 22% of food stores reported this, followed by 18.8% of fuel stores and 11.1% of clothing stores.
Morning update
Virgin Wines UK has entered into a partnership with cards and gifting business Moonpig to launch a range of products on its platform.
As part of the new partnership, Virgin Wines will launch a range of 32 different wines, some of which are available exclusively via the Moonpig website, as part of the latter's ever expanding gifting proposition.
The first of its kind 'shop in a shop' launch allows customers to buy a bottle or wine gift either as a standalone purchase or as an add-on to any card purchase. The range includes a number of individual bottles, wine selections (six in a box), gift boxes as well as lines put together exclusively for Moonpig. The partnership is effective immediately.
Virgin Wines said this latest partnership with Moonpig further supports the group's long-term strategy of growing its core wine offering as well as the continued development of Virgin Wines' commercial and gifting channels.
CEO Jay Wright commented: "We've long admired Moonpig and are delighted to be working with them on this exciting and innovative partnership. Both businesses are committed to delighting customers with outstanding quality and value and we are confident this beautifully packaged range will prove to be extremely popular. We are looking forward to a long and successful relationship with the whole Moonpig team."
David Rimmer, commercial director at Moonpig, added: "We partnered with Virgin Wines, a well-known authority in wines, to help us curate a range we know will satisfy all of our customers. The range consists only of the best reviewed customer favourites and wine connoisseur recommendations, so our customers can trust that any wine they buy with us will be the best quality and deliver with a bang.
AIM-listed Real Good Food has announced it has finalised an funding agreement with its three major shareholders Napier Brown, Omnicane International Investors and funds managed by Downing.
The Agreements have been amended such that the final repayment dates have have been extended to 19 May 2023 with no change to the interest rate payable by the company.
The repayment dates had previously been extended to 19 May 2022. The change provides additional financial flexibility for the group to continue its balance sheet restructuring, and to accelerate and maximise the value of the remaining group businesses, Renshaw and Rainbow Dust Colours.
Mike Holt, non-executive chairman commented: "The Board appreciates the support of its major shareholders in agreeing these amendments. Following the Group's sale of Brighter Foods on 11 May 2021, its indebtedness has halved, and the retained businesses are performing as expected. This continued funding will support the group as it seeks to maximise shareholder value"
On the markets this morning, the FTSE 100 is up another 0.3% to 7,050.3pts.
Early risers include SSP Group, up 2.9% to 262.5p, WH Smith, up 1.9% to 1,654p and Just Eat Takeaway.com, up 1.5% to 6,438p.
Fallers so far this morning include McBride, down 2.8% to 77.8p, THG, down 2.4% to 581.9p and Nichols, down 1.3% to 1,391.6p.
Yesterday in the City
The FTSE 100 edged up 0.2% to 7,027.5pts yesterday.
Hilton Food Group was amongst the risers after the meat processor posted strong first half growth driven by expansion in Australia, with the shares ending the day 5.1% up at 1,150p.
Other risers included Kerry Group, up 3.8% to €125.80, Greencore, up 2.9% to 133.2p, Compass Group, up 2.9% to 133.2p, Finsbury Food Group, up 2.8% to 93.5p, McColl's Retail Group, up 2.7% to 19p, C&C Group, up 2.7% to 232p and Naked Wines, up 2.5% to 814p.
The day's fallers included THG, which dropped 6.7% to 596p after posting its interim results.
Also dropping were Glanbia, down 2.7% to €14.24, McBride, down 2.4% to 80p, Ocado, down 2.2% to 1,769p to continue its falls this week, Ocado's retail partner Marks & Spencer, down 2.1% to 182.2p and FeverTree, down 1.7% to 2,310 after strong gains earlier in the week.