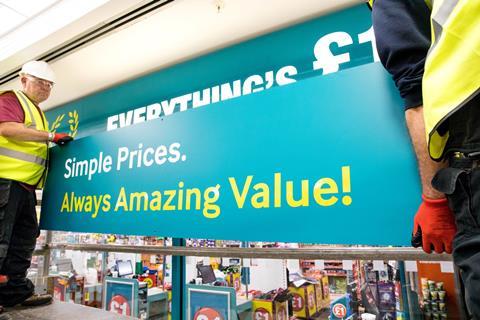 Top story
Poundland owner Pepco Group has grown its full year revenues by almost 20% as significant store expansion and like-for-like sales growth despite the Covid pandemic boosted performance.
Updating the market after the close of its financial year to 30 September 2021, Pepco said full year group revenue was up 19.4% year-on-year to €4.1bn.
Overall group like-for-like growth was 6.5%, with Pepco branded stores up 9.8% for the full year and Poundland/Dealz up 3.1%.
Pepco's strong like-for-like growth continued in the fourth quarter as it grew 10.2%, while Poundland and Dealz slipped back to 1% like for like growth.
The group said Pepco's growth was driven "by the strength of proposition, including our store and proposition refit programmes and higher levels of customer demand".
Poundland's organic growth "provides a clearer indication of the strengthened customer offer", in particular strong performances across recently extended categories in clothing and homewares and the introduction of a new frozen and chilled offer to 35 stores in the quarter.
The year also saw significant new store expansion continues across all brands, with 424 net new stores opened in the year (483 including Fultons stores acquired trading at the year-end).
There were 364 net new store Pepco openings, which represents a 17.3% increase versus last year, while Poundland/Dealz added 60 net new stores (119 including Fultons), which represents an increase of 6.5% YOY (12.9% including Fultons).
Additionally, 954 store renewals were completed (827 PEPCO, 127 Poundland) to upgrade stores to its latest layout and environment.
Full year underlying EBITDA is anticipated to be at the upper end of analyst expectations and in the range of €640m-€655m, representing growth of 45% on the Covid impacted prior year.
Closing net debt has reduced by €226m to €102m, reflecting management action to reduce stock and optimise working capital across the year.
CEO Andy Bond commented: "We delivered another strong trading performance and made good progress against our strategic plans during the year. Despite the operational challenges from Covid disruption, we continued to open new stores across all three of our brands, opening 141 in the final quarter. We are also pleased by the results of our store renewal programme in driving our LFL performance and enhancing the customer experience.
"As consumer demand and business activity returned following covid impacts, pressure on global supply chains has increased with reduced raw material availability leading to commodity inflation, further compounded by constrained container capacity which significantly increased shipping costs from the final quarter. Through a combination of actions taken in our operating model and our unique Far East direct sourcing operation, PGS, which has strong direct supplier and factory relationships, we have quickly taken operational action to mitigate these impacts."
"In order to further drive our significant growth plans and recognising the financial strength of the Group alongside the price sensitive nature of our core customer, we intend to invest into our price proposition to maintain our price advantage. We have developed clear plans to reduce our operating cost base through leveraging our increased scale and capability to maintain the continued delivery of our profit growth."
"While the backdrop against which we operate will remain challenging for some time, we remain confident in the significant growth opportunity we have, our plans to achieve them, and meeting future market expectations."
Morning update
The British Honey Company, the producer of premium British Honey and craft spirits, has shaken up its board after pressure from a major investor.
Following "constructive discussions" Richard Day has been re-appointed as non-executive chairman and Mark Gamble, the founder of Union Distillers, which was bought by British Honey earlier this year has been re-appointed as executive director.
Meanwhile, chief operating officer Alex Maurice has resigned from the board with immediate effect and will continue to be employed within the group.
Gamble, the owner of 16.56% of the company's voting share capital, had previously called for a shareholder meeting to vote for a number of measures including the return of Day as chairman and his own return to the board.
This meeting will not now be convened.
Richard Day commented: "We are pleased that the new board is settled. We will, of course, be working together to further enhance the experience and balance of the board. We believe British Honey has a good underlying business and we look forward to a period of stability and growth, working together in the best interests of our staff, our customers and our shareholders to build real value. We intend to hit the floor running and will update shareholders in due course."
Domino's Pizza Group has posted continued strong performance despite the return of restaurant dining and relaxation of Covid measures.
The group's system sales were up 9.9% to £375.8m, with like-for-like system sales growth, of 8.8%, and 8.3% including splits.
Reported system sales growth was lower in the quarter as the period passed the anniversary of the lower VAT rate which was introduced on 15 July 2020.
Domino's said that while changes in VAT impacts reported system sales growth it has limited flow-through to profitability.
Excluding the impact of VAT, underlying system sales growth, excluding splits, was 6.4% compared to 5.5% in the first half of the year.
Total order count grew 9.5% in the period, driven by collection up 40.3% and delivery up 1.5%. Collection, its most profitable and efficient channel, is now at 82% of pre-Covid levels, compared to 71% in the first half of the year.
It added five new stores in the quarter from three different franchisees, bringing the total opened in 2021 to 18 from seven different franchisees. These stores are trading ahead of expectations, and the group remains on track to open up to 30 new stores by the end of the year and 200 stores in the medium term.
For the full year, Domino's said the changes to the rate of VAT will impact reported system sales growth in the second half of the year but that strong underlying sales growth momentum is being maintained.
It noted it has seen "some impact" from the well-publicised pressures on labour availability and food cost inflation, which are expected to extend into next year. But it said it continues to take proactive, preventative measures "to ensure our world-class supply chain service levels are maintained and that cost increases are constrained".
It stated: "As we head into our peak trading period, we are confident that our agile, vertically integrated business model can adapt quickly to changing market conditions to sustain our performance and deliver on our expectations for the full year."
CEO Dominic Paul commented: "We have delivered another strong quarter and demonstrated excellent momentum in the business which reflects the hard work and commitment of our franchisees and colleagues. We have built on our strong performance through the pandemic as restrictions have been lifted, with our collections business continuing its recovery and our total order count growing in a profitable and sustainable way.
"I am pleased with the strategic progress we have made in the period as we continue our journey to deliver a better future through the food people love. Our integrated marketing campaigns have improved our brand strength and awareness levels.
"Our supply chain continues to deliver outstanding results, despite the well-publicised inflationary pressures and challenging labour market, which is testament to the skill and dedication of our teams. While we see these pressures continuing into 2022, our success in managing them to date provides us with confidence that our growth momentum will be sustained. We're proud to be creating new jobs to support that growth and today are announcing that we are recruiting 8,000 new colleagues across the UK and Ireland."
"Trading remains in-line with our expectations, we are well placed as we gear up for our peak trading period and believe our strategy is working to create sustainable value for all our stakeholders."
On the markets this morning, the FTSE 100 is up another 0.6% to 7,182.9pts.
Early risers include Parsley Box, up another 13.2% to 60p, THG, recovering 9% to 301.4p, McColl's Retail Group, up 3.1% to 21.4p and Deliveroo, up 2.9% to 277.8p.
Fallers so far this morning include Virgin Wines, down 2% to 178.8p, Glanbia, down 1.7% to €13.37 and Marks & Spencer, down 1.1% to 180.6p.
Yesterday in the City
The FTSE 100 rose for the fifth day of six yesterday, climbing 0.5% to close at 7,177.4pts.
Just Eat Takeaway.com fell back 1.7% to 5,414p as it posted a slowdown in growth as the hospitality industry reopened, with third quarter transactions up 25% and gross transaction value up 23% year-on-year to €6.8bn (£5.8bn).
The Hut Group found little respite after its 35% share price collapse on Tuesday, falling another 3% to 276p.
Elswhere, risers included Parsley Box, back up 20.5% to 53p, Hotel Chocolat, up 3.9% to 514p and Carr's Group, up 2.2% to 152p.
Fallers included McColl's Retail Group, down 1.4% to 20.5p, Bakkavor, down 2.2% to 126.2p, Finbsury Food Group, down 1.3% to 91p and Nichols, down 1.2% to 1,222p.