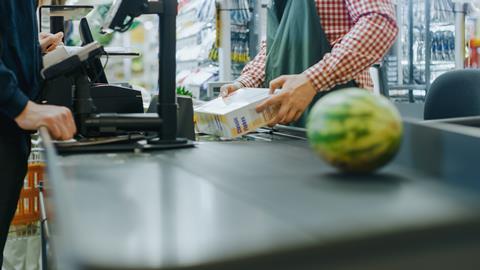 Top story
Total till sales in the grocery sector bounced back to growth of 1.1% in the most recent four weeks as physical stores benefited from a 10% slump in online grocery sales.
NielsenIQ found that till sales were up 1.1% in the four weeks ending 14 August 2021, up from -1.3% in July, as short summer heatwave in the week ending 24 July helped lift sales.
The industry experienced 50 million more in-store visits in the four week period compared with the same period last year, with store sales rising to £7.7bn.
However, this is at the expense of online grocery sales, which have fallen by 10% compared to a year ago, reaching £1.1bn in sales.
NielsenIQ said online grocery sales slipped to £1.1bn compared with £1.2bn this time last year, with online share of grocery spend has declining to 12.7% from a peak of 13.4% in May 2020 during the height of the first lockdown.
In contrast, visits to stores are up 12% and "this shift back to stores suggests improving shopper confidence following the growth in vaccination rates, with shoppers more willing to shop more often and at more retailers, as well as the easing of social distancing restrictions in recent weeks, and a boost from summer weather".
In terms of retailer performance, Tesco was the strongest big four player with flat sales in the 12 weeks to 14 August compared to the corresponding period a year ago.
Sainsbury's was down 1.1%, Asda 3.6% and Morrisons down 5.4%.
Lidl and Aldi were back in the strongest growth during the period, of 16% and 7.3% respectively.
Marks & Spencer also enjoyed strong growth of 5.5% while Waitrose was up 2.5%.
NielsenIQ data found that confectionery (+9.6%) and soft drinks (+5.5%) categories experienced healthy growth, as consumers sought to purchase items for socialising and enjoying the tail end of the summer of sport, which included celebrating the Olympics, and holidays in the UK.
Convenience foods such as delicatessen (+9.5%) and bakery (+8.1%) also experienced an uplift. However, frozen food (-4%) and beers, wines and spirits (-6%) saw sales decline, but this is due to having exceptional double-digit comparatives during the same period last year.
Mike Watkins, NielsenIQ's UK Head of Retailer and Business Insight, said: "Shoppers seem more confident in visiting stores, which has had an impact on online grocery. However, the decline in online sales was expected as it is largely due to shoppers no longer needing to make such large shops as lifestyles finally started to normalise. What is important is that despite there being a lack of new online shoppers over the last 12 weeks, existing online shoppers are staying – just spending differently."
"Food retail sales have been helped by events and warm weather in recent weeks but with the summer holidays soon coming to an end, retailers will need to keep their fingers crossed for an improving consumer sentiment to drive spending, particularly as we head into Q4, which could be a more challenging period with equally high comparatives."
Morning update
Ocado has appointed former Amazon exec and robotics specialist Nadia Shouraboura as a non-executive director, with effect from 1 September 2021.
She founded and served as the CEO of Hointer and a vice president at Amazon, and is an industry leader in the field of machine learning and robotics.
Richard Haythornthwaite, Chairman of Ocado, said: "We are delighted to welcome Nadia to the board. She has an incredible array of very pertinent experience which will be very valuable to us as we define the next steps of the extraordinary growth story for Ocado.
"Without doubt, she will add fresh perspectives and bring her wealth of skills and experience to help us make the most of our technology leadership and our platform as a serial and successful innovator".
CEO Time Steiner added: "I am very excited to welcome Nadia to the board. I know she will bring to the role a huge amount of relevant expertise working with high growth, progressive technologies both as an entrepreneur and CEO, and as an expert in AI, software development and robotics, as well as great energy and vision. This is a fantastic time to be joining Ocado and we have never been as excited about the future. We are truly delighted to have Nadia on the journey with us".
Commenting on her decision to join the Ocado board, Shouraboura said: "I am delighted to be joining the Ocado Group board at a time of such great change in the retail and technology landscape and with Ocado having so many opportunities to lead this process in ways that will benefit all its stakeholders.
"I admire what Ocado has achieved so far. But I know that this is only the beginning of the story of a world-class company, dedicated to changing the world for the better through constant innovation. I look forward to playing my part in helping Ocado grow and flourish".
On the markets this morning, the FTSE 100 has edged up 0.1% to 7,113pts.
Risers include Bakkavor, up 4.2% to 119p, Marks & Spencer, up 3.1% to 169p and Nichols, up 2.8% to 1,390p.
Fallers include Parsley Box, down 3.1% to 125p, Sainsbury's, down 1.7% to 334.1p and Science in Sport, down 1.4% to 72p.
Yesterday in the City
Sainsbury's surged 15.4% yesterday to close at its highest level for three years at 340p after media reports that private equity giant Apollo was sounding out an approach for the supermarket chain amid the current bidding war for rival Morrisons.
The FTSE 100 as a whole stared the week up 0.3% to 7,109pts.
Other risers included THG, up 6.5% to 613p, Bakkavor, up 4.2% to 114.2p and Deliveroo, up 3.4% to 389.2p.
Sainsbury's rival Tesco finished the day up 2% at 251.5p on positive shareholder sentiment around the sector.
The day's fallers included Science in Sport, down 4% to 73p, C&C Group, down 2.8% to 237.8p, Hotel Chocolat, down 1.6% to 361p, Kerry Group, down 1.6% to €124.50, Tate & Lyle, down 1.1% to 714.6p and Associated British Foods, down 1.1% to 1,993.5p.