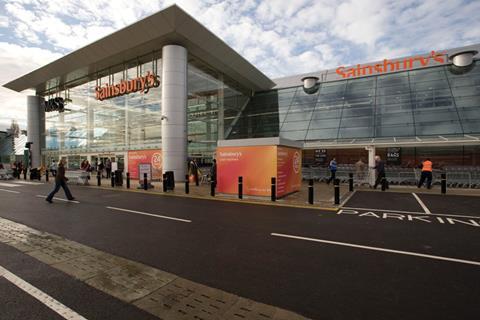 Shares in Sainsbury's soared on Monday following reports that a US private equity firm is considering a takeover bid for the UK's second-biggest supermarket chain (The Telegraph).
Shares in Sainsbury's shot up to the top of the FTSE 100 leaderboard to their highest level in more than seven years (The Mail).
Sainsbury's shares rallied amid signs of a short squeeze as hedge funds that had bet against Britain's second-largest grocer cut their exposure (The Times £).
Sainsbury's is seen as the next potential target for foreign private equity cash after the recent bidding war for Morrisons drew investors' attention to the larger UK supermarket chains (The Guardian).
A separate article in The Times (£) takes a look at Czech businessman Daniel Kretinsky's involvement in Sainsbury's as one of its largest shareholders.
Business commentary by Alistair Osborne in The Times (£) warns not to rule out "a real Sainsbury's bid". "Some supermarket chains get real offers from rival bidders. Others just get a bid story."
The Lex column in The Financial Times (£) points out the focus of the US private equity groups is on the bidding war for Morrisons at the moment. But adds attention could soon turn to Sainsbury's in due course. "There is no doubting the appeal of asset-rich, cash-generative businesses to private equity bidders just now."
A leader in The Times (£) says that the private equity shopping spree gripping the City reflects confidence in Britain and bargain prices.
The Mail asks if it matters whether our supermarkets are foreign-owned.
Legal & General Investment Management has said it has questions about plans to take Morrisons private despite a bidding war taking offers to £7bn (The Times £). It added its concerns about the retailer's property portfolio being sold too cheaply had been somewhat alleviated, but it was still assessing commitments about the chain's "future management".
Boots is hoping to improve its online service by launching a partnership with Deliveroo promising to deliver health and beauty products within 20 minutes (The Times £).
Takeaway app to offer 400 items from lipstick to hand sanitiser in pilot programme from 14 stores (The Telegraph).
Stores in London, Birmingham, Edinburgh and Nottingham will be among the 14 initially available in the trial as part of a pilot scheme launching on Tuesday (The Guardian).
Marks & Spencer will shut all its 1,000 UK and Ireland stores on Boxing Day this year, giving its 70,000 staff the day off to spend time with their families (The Telegraph).
Marks & Spencer has followed Morrisons in becoming the second big retailer to give its staff a holiday on Boxing Day, which falls on a Sunday this year (The Times £).
The Tempus shares column in The Times (£) takes a fresh look at M&S following last week's latest trading update, asking if a "rare" profit upgrades shows the latest shake-up will yield results. "The boost to pre-tax profit guidance for this year indicated that the latest reboot might have legs."
Abattoirs, butchers and meat processors are set to employ prisoners and ex-inmates to help plug labour shortages (BBC News).
Supply bottlenecks are choking the UK's economic recovery as businesses grapple with record stock shortages and a lack of staff, surveys show (The Times £).
Former England cricketer Lord Ian Botham has been tasked by Boris Johnson to lead a trade mission to Australia in his new role as a UK government envoy (The Financial Times £).
He is one of 10 parliamentarians given a new role as a trade envoy, taking the total number of MPs and peers performing unpaid trade ambassador roles to 36 (The Guardian).