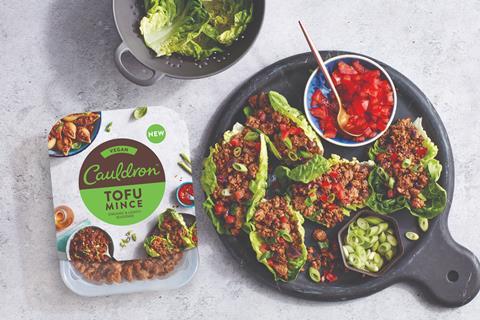 Cauldron is boosting its range with a duo of new vegan SKUs – including a tofu mince it claims is a category first.
The brand's new Tofu Mince would "make it easier for shoppers to add more plant-based variations of their everyday favourite dishes, such as bolognese or chilli into their diets", said the brand, and is gluten-free and made from sustainable soyabeans.
Shoppers were "increasingly looking to replace beef mince with vegan products that are made from organic ingredients", said head of Cauldron Tom Lindley. The NPD was "a first for the brand and is the only vegan mince in the market that is made from organic and sustainable soyabeans", he added.
It will hit Waitrose from September (£2.25/180g).
A new Organic Quick & Tasty Tofu SKU, meanwhile, has rolled out, offering its existing Organic Block tofu in a "convenient smaller pack format".
It was "aimed at shoppers who are new to the tofu category" and was "a perfect two-person serving that doesn't need pressing, reducing waste and streamlining the cooking process", said the brand.
"We recognised that there was also a need for a quick and tasty two-serve concept," said Lindley.
The launches mark the latest in a mass of NPD from the brand.
In May it launched two new snacking lines – a new tofu with Italian herbs & tomato line and a veg-based tandoor bites line – into Waitrose.
Prior to that, in March, it took its first steps into the vegan cheese category with the launch of a Greek-style cubes line.