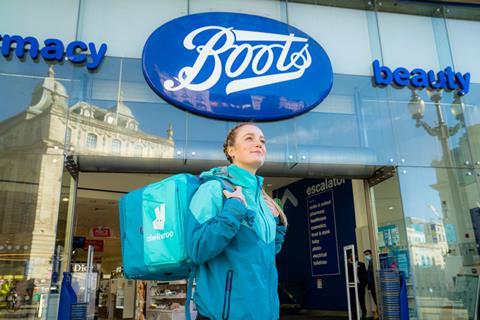 Boots has joined forces with Deliveroo to deliver a range of more than 400 products to homes across the country.
The on-demand partnership will enable customers to have their Boots items of choice delivered in as little as 20 minutes.
Deliveroo customers will be able to order food items as well as medicines for minor ailments, Boots' No7 products and other toiletries and skincare items.
The trial will initially encompass 14 pilot stores, including Birmingham, Brighton, Edinburgh and London. If successful, it could expand to more Boots stores in the future, the health and beauty retailer said.
"We are very excited about this new partnership with Deliveroo," said Boots.com director Paula Bobbett.
"It will be super handy for times when you need something urgently but can't leave the house, like if you're feeling unwell or are looking after your kids."
The Deliveroo partnership builds on Boots' plans to grow its online business. The health chain saw online sales jump throughout the pandemic – orders on Boots.com were up 85% between March 2020 and March 2021, compared with the same period the previous year.
Boots already offers its own home delivery and click & collect services, but a Deliveroo collaboration drastically reduces its delivery times.
Meanwhile, the rapid grocery delivery company has been expanding its portfolio of major retailers looking to ramp up their on-demand and convenience offerings.
Deliveroo said it was "delighted" to announce the Boots partnership, which would "create more work for riders" across the country.