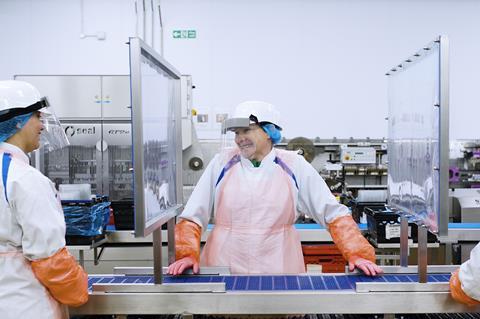 Cranswick has moved a step closer to realising its goal of becoming a net zero business by 2040 after seeing 14 of its manufacturing sites certified as carbon neutral.
Part of the pork and poultry supplier's Second Nature sustainability initiative, the business reached the milestone through a raft of measures including efficiency projects, waste reduction initiatives and clean energy investments – with the business having switched to 100% renewable electricity.
It then supplemented this work with investment in 11 verified climate mitigation and carbon removal projects around the world to offset its remaining emissions.
Work to become carbon neutral helped Cranswick reduce its relative Scope 1 and 2 carbon emissions by 18% during the past financial year, with the business spending just over £10m on sustainability projects, said CFO Mark Bottomley.
It comes as the company – in a combined pork and poultry industry first – has also completed a move to 100% certified deforestation-free soya feed, which will result in a 21% reduction in carbon compared to its previous practices.
Cranswick chief commercial officer Jim Brisby said the move put the business in "a positive position" to meet its goal to halve indirect Scope 3 emissions by 2030, given 80% of its Scope 3 targets were feed-related.
These actions, combined with plans to scale up regenerative agriculture and soil health programmes and achieving carbon neutral farms by 2030, would help Cranswick achieve its 2040 net zero target, he added.
"Consumers will continue to eat meat, so this has all been done to make meat more sustainable," Brisby said.
"Our ambition is to become the world's most sustainable meat business, but this goal is about action, not just words," he added.
"It is crucial that all food manufacturers work together to recognise their role in tackling the climate crisis. We have led the way by signing up to Science Based Targets, committing to halving our emissions by 2030 and reaching Net Zero by 2040, but we can't make a difference on our own."
Tackling climate change wasn't easy, Brisby noted. But the business had made "significant changes to the way we operate, from how we source our feed, power our sites and reduce our waste".
Cranswick has a long way to go, he added. "But I'm proud of our teams who have embraced climate action with such vigour and helped us reach this first step of carbon neutral manufacturing.
"We will continue to invest in decarbonisation and collaborate across the sector to play our part in the critical transition to a resilient, low-carbon world."