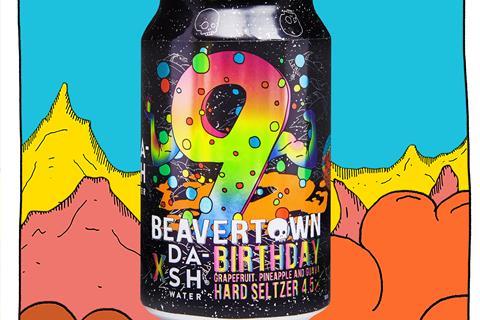 Beavertown Brewery has teamed up with Dash Water to launch a hard seltzer.
The 4.5% abv drink is a limited edition grapefruit, pineapple and guava-flavoured seltzer brewed by the two brands to celebrate Beavertown's ninth anniversary (rsp: £2.50/330ml).
"Logan [Plant, Beavertown founder] is a small investor in Dash and reached out to us," Dash co-founder Jack Scott told The Grocer. "During their early days they had collaborated with a lot of local breweries for birthday brews. So they were thinking creatively around partners for their ninth birthday and obviously had some interest in the hard seltzer craze."
Beavertown was "really interested in creating the spirit that could be the basis of the hard seltzer, then drawing on us for the fruit extracts and flavouring", said Scott. "We were able to introduce them to our flavour experts and supply them with some of our wonky fruit extracts.
"Through a couple of sessions over Zoom and then us going to the brewery to do a load of tastings, we came up with this very special, quite fun, creative product which linked the brands together quite nicely."
The drink itself had "gone down the traditional hard seltzer route" of being low in sugar, he added. "It's a grown-up drink with lots of flavour but not sweet."
It marks the first time Dash has collaborated with another fmcg brand. "We've tried to keep things very simple with our product and make sure our marketing and comms are straightforward," said Scott, adding he hoped it would get the Dash brand in front of a new audience.
"Even though the brands are very different we share some of those core values," he said.
It comes on the back of a flurry of activity from both brands.
Beavertown this month launched a 4.4% lager, called Bones, which joined its core range. The brew is billed as having a "fresh taste and smooth, clean aftertaste".
It also announced the opening of its first pub, The Corner Pin, in London's Tottenham, which will open its doors from 1 September.
Dash, meanwhile, spent July running a campaign with The Felix Project, a charity that works to fight food poverty in London.
For every multipack sold in Sainsbury's, Ocado, Waitrose and Planet Organic, the brand donated a meal to The Felix Project. "We donated 57,146 meals to people living in food poverty in London," said Scott.
"We used shelf barkers in-store to communicate the campaign, so shoppers were not only buying a pack of Dash but donating a meal by doing so as well. It really helped our retail relationships."