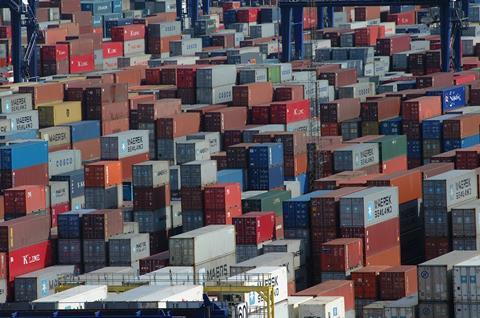 Supermarkets are searching for alternative ways to bring food into the country after growing congestion at Felixstowe port left it struggling to cope with the volume of inbound cargo.
Port congestion has troubled global supply chains since last year, when the pandemic closed ports and left containers out of location.
The situation at British ports has been exacerbated by the current driver shortage, meaning containers are often found languishing dockside awaiting collection.
At Felixstowe, many shipping containers are now spending around 10 days at the port before being collected, up from a typical average of four-and-a-half days. The port handles around a third of the UK's container freight, mostly from non-European markets.
The situation is troubling many supermarkets and suppliers who are now searching out alternative ways to bring goods into the country.
Andrew Opie, director of food & sustainability at the BRC, said "retailers are aware of congestion at the Port of Felixstowe…and are working closely with suppliers to mitigate issues, including finding alternative routes to bring goods into the country".
Tesco has already increased its use of rail freight to try and minimise disruption caused by the current driver shortages. CEO Ken Murphy said last week it was one of only three retailers using significant volumes of rail freight.
Maersk, the world's largest container shipping company, has begun diverting vessels away from Felixstowe this week because it is too full of containers, instead discharging UK-bound cargo in European ports for smaller vessels to them back across the Channel, according to the Financial Times.
"Felixstowe is among the top two or three worst-hit terminals [in the world]," said Lars Mikael Jensen, Maersk's head of global ocean network, advising some retailers may need to prioritise what they ship ahead of Christmas.
Food and drink coming from Europe into ports such as Dover and Portsmouth has been least affected by the disruption, according to Richard Ballantyne, CEO of the British Ports Association. "Ironically, the sector that hasn't been impacted by the haulage shortage as much is the roll-on-roll-off because the drivers are not domestic drivers, they're European where the driver shortage is less bad."