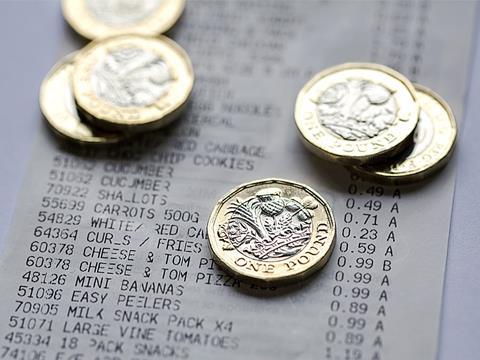 Food prices are coming under increasing pressure as rising costs continue to hammer suppliers and retailers, according to the latest industry data.
The British Retail Consortium predicted prices would likely rise in the coming months following months of increased commodity and shipping costs, as well as problems stemming from the HGV driver shortage.
Food deflation decelerated to 0.2% in August, compared with 0.4% in July, the latest BRC-NielsenIQ monthly shop price index showed. It is the fifth consecutive month of falling food prices.
Fresh food prices fell for the ninth consecutive month in August, with deflation easing to 0.6% from a decline of 1% in July.
Ambient food inflation eased to 0.3% in August, down from 0.5% in July. This is the lowest rate of inflation for the category since January 2017.
Shop prices overall eased to 0.8% year on year last month, compared with July's 1.2% decrease.
Non-food deflation slowed to 1.2% in August, compared with a fall of 1.8% in July.
BRC CEO Helen Dickinson said there were some modest signs rising costs were starting to filter through to product prices, with non-food categories such as electricals seeing sharp increases due to global issues with delayed shipping and microchip shortages.
"Food retailers are fighting to keep their prices down as far as possible," she added. "But mounting pressures – from rising commodity and shipping costs as well as Brexit-related red tape – mean this will not be sustainable for much longer, and food price rises are likely in the coming months."
Mike Watkins, head of retailer and business insight at NielsenIQ, said: "With shoppers now returning from their summer holidays many will be reviewing their household budgets. So, the next few months will be an important time for retailers to keep prices stable by absorbing as much of any increase in their supply chain costs as possible."