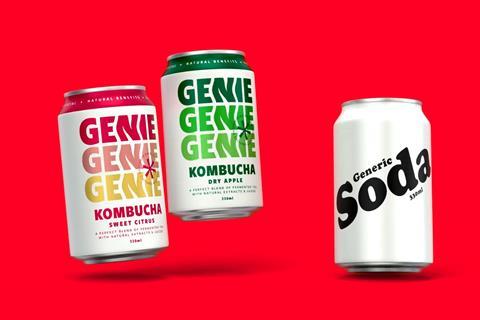 Genie Drinks is mounting a challenge to the soft drinks giants with the launch of its first-ever TV advert.
The ad shows a can of "generic soda" trying to entice two cans of Genie kombucha into having a few sips of its product.
The kombuchas politely decline, telling the generic soda that they prefer to "keep it simple" with no preservatives or refined sugars, but that they still taste as good.
The ad ends with one of two taglines on screen: 'Super natural sodas' or 'No nonsense sodas'.
Genie said it wanted to "lead the expanding adult soft and kombucha categories whilst taking on the dominant brands in the mainstream soft drinks sector" with the ad.
Its range of kombuchas and probiotic live sodas would tap the growing demand for "innovative, healthy and delicious non-alcoholic drinks", it added.
"The first advertising campaign for any brand is an exciting time, and this creative really captures our no-nonsense attitude, bold positioning and, most importantly, our delicious drinks", said its co-founder Alex Webster.
The activity would "drive growth for the business and support us in our ambitions to lead the nascent healthy adult soft drink and kombucha categories", he added.
The ad had been created by design agency Bulletproof as part of Sky's SME Support campaign, a £1m fund providing 100 businesses with TV advertising campaigns to help them recover from the effects of the pandemic.
It is being delivered via AdSmart from Sky, an addressable TV platform that allows brands to target audiences within a specific postcode area, by household make-up or with specific lifestyle attributes.
It comes after the challenger brand recently gave its kombuchas a makeover to boost their "on-shelf presence".
Last month, it moved the trio of drinks from glass bottles into cans, which also marked "a significant step in fulfilling the company's goal to be 100% sustainable and 100% ethical", it said.