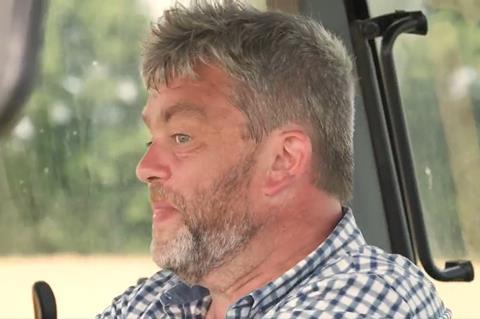 Glebe Farm Foods has taken a swipe at Oatly with a video depicting co-owner Philip Rayner running over a keyboard in a field – a motif from the plant-based giant's high-profile 2017 Superbowl advert.
The Cambridgeshire oats specialist, which emerged victorious from a High Court battle with plant-based giant Oatly earlier this month over its PureOaty oat drink, posted the video on social media.
In it, Glebe has recreated one of Oatly's first global campaigns, which saw CEO Toni Petersson singing the phrase "wow, wow, no cow" while playing a keyboard in a field of oats.
Using Oatly's distinctive typeface to spell out "huh?" above the instrument, co-owner Philip Rayner is heard to say "I've just about heard enough of this nonsense" before running over the keyboard in his tractor.
With a similar keyboard soundtrack to the one used in Oatly's original ad playing in the background, Rayner looks down from his cab for the crushed keyboard and says "whoopsie" before a carton of PureOaty is displayed.
Captioning the video, Glebe's account wrote, "We 'found' this electric keyboard in the middle of an oat field. Who'd have thought? Apparently, it might have been left over from some marketing gimmick – think it's how some of the big firms sell oat milk to the Americans perhaps…. Aaannnyway, wasn't too much bother to deal with."
In what appeared to be a semi-humorous response, Oatly creative director for the UK, Germany, Austria & Switzerland Michael Lee appeared to threaten Glebe with further legal action.
"Ha ha Glebe Farms, good one! You'll be hearing from our lawyers… Wait, did I say that last bit out loud?"
It is the latest development in what is becoming a growing rivalry between Glebe Farm and Oatly, which has extended into areas beyond the courtroom.
In July, PureOaty was revealed to have a lower carbon footprint than Oatly's oat drinks, while the pair are also set to become near-neighbours when Oatly completes construction on its first UK factory in Q1 2023.
It comes as Oatly has become embroiled in a separate legal dispute over a trademark with healthy food and drinks supplier Skinny Food Co.
Last week, The Times revealed the plant-based giant had blocked the Nottingham firm's attempts to trademark the term 'Skinny Barista'.