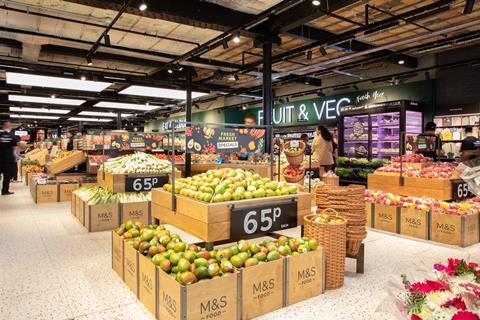 M&S has launched its food range on global export platform British Corner Shop.
British Corner Shop is available in more than 150 countries, enabling international customers to order UK supermarket favourites to their doorsteps in a matter of days.
Shoppers will now be able to buy more than 800 different M&S Food items via the export platform, including Percy Pig products and own-label Luxury Gold Teabags.
"Our mission is to deliver efficient and low-cost ways to sell the best of M&S to the world, and by partnering with British Corner Shop we're able to instantly offer the best of M&S Food to millions more customers," said M&S MD of international Paul Friston.
The retailer said the move would allow it to roll out a wide range of products "without significant upfront investment".
The deal is part of M&S's larger plans to expand its food division and drive online sales growth via collaborations with third-party platforms.
Building on its Ocado partnership in the UK, M&S committed in May to more than doubling online retail sales as global customers increasingly look to digital shopping outlets.
[embedded content]
"British Corner Shop connects quality British brands to customers worldwide, which is why partnering with M&S, one of the most iconic British brands, is a perfect fit for both parties," said British Corner Shop MD Mark Callaghan.
British Corner Shop, which is one of the leading international exporters of British goods, has seen a spike in demand over the past 18 months as the pandemic forced people to shop online.
The online grocer – which stocks more than 6,000 SKUs, including Waitrose products – saw over 140% growth from March 2020 to March 2021.
It recently established a distribution site in the Netherlands to avoid Brexit-related import issues after being forced to "significantly" reduce its range during the transition period.