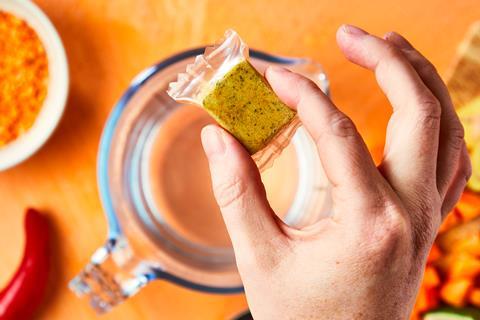 Gousto is trialling an "industry-first" edible stock cube wrapper.
The packaging – which is made from pea protein and starch – had "the same benefits as plastic, being able to preserve the food's flavour and shelf life", it said.
If the trial is successful, it will replace Gousto's existing stock mix sachets and would save 17 tonnes of plastic annually if rolled out in full, said Gousto.
The vegan and gluten-free wrapper was created in partnership with Xampla, a spinout from the University of Cambridge, and was the result of 15 years of research by Xampla and one year of development with Gousto.
It is made by engineering and drying pea protein into sheets. Shoppers will be able to add the wrappers to deliveries from 6-12 November as part of its Indian Spiced Carrot & Lentil Soup recipe.
Customers who take part in the trial will be able to use the vegetable stock cube to make the soup by dissolving it in hot water.
The move is part of Gousto's ongoing work to reduce plastic packaging in its recipe boxes.
Last year it cut plastic by 50% in its boxes, by switching to more cardboard packaging and launching the Eco Chill Box, an insulator made of recycled cardboard that keeps ingredients fresh.
Gousto CEO and founder Timo Boldt said this was "another super exciting step towards reducing plastic packaging even further".
"We're excited to see what our customers think, and to continue paving the way for innovative sustainable solutions in our industry", he added.
Xampla CEO Simon Hombersley said: "We're so excited to be working with the recipe box company to offer more sustainable alternatives to plastic, and hope this marks the beginning of significant change within the industry and many more innovative packaging solutions in the future."
It comes after Gousto last month started rerouting failed deliveries to food redistribution charity FareShare.
Under the initiative, recipe boxes that cannot be delivered to customers are taken by Gousto's courier partner DPD to a FareShare warehouse. From there they are donated to charities and community groups that support vulnerable people across the UK.