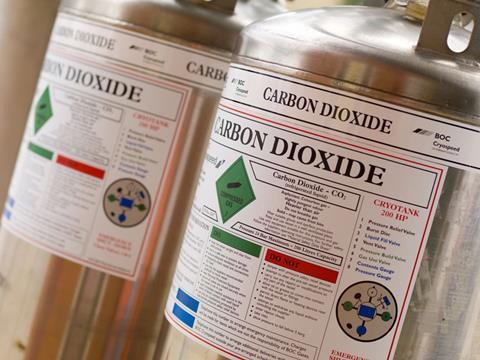 The government has sealed a deal with US chemical giant CF Industries to restart CO2 gas production at its two UK sites.
Full detail of the agreement has not yet been disclosed by the government. However, The Grocer understands it has agreed to underwrite the restarting of production, though food industry customers will have to foot the bill of what is expected will be a significantly more expensive input.
CF halted production of fertiliser at its plants at Ince in Cheshire and Billingham in Teesside last Thursday due to a surge in wholesale energy prices across Europe, which were further exacerbated by a fire which damaged a key power line linking the UK to France.
The business gave no indication over when it intended to restart production.
With about 60% of the UK's CO2 gas supplies met by the supplier as a by-product of its ammonia manufacturing process, the shutdown led to warnings of a fresh CO2 crisis that would "dwarf" the one that almost crippled the food sector in 2018.
In addition to mounting concern across the poultry sector, dwindling CO2 gas supplies have also contributed to a near 100,000 backlog of pigs on farms, amid warnings from the National Pig Association that producers will soon have to resort to on-farm culling. Some UK soft drinks brands were also down to "only a few days" left of CO2, the British Soft Drinks Association warned.
Food sector bodies gave a cautious welcome to the news on Tuesday afternoon, but they were also keen to understand more about the agreement, with some warning it could take more than a week until the supply chain was resupplied with the gas.
"The announcement the government has reached an understanding with CF Industries is good news for the continuation of CO2 production to keep food moving," said British Poultry Council CEO Richard Griffiths, who added some major processors had resorted to electrical stunning as a result of gas shortages.
"We thank the government for this intervention. We are currently waiting for Defra to facilitate how this will work in practice."
However, Griffiths also warned "this is just the start of a long road ahead".
The latest CO2 crisis "demonstrated the importance of CO2 in British poultry production, to avoid both bird welfare and supply issues", he added.
"Food is a national security issue and must be treated as such: total poultry production in this country is around 20 million birds a week. The whole poultry meat industry is working tirelessly to avoid food shortages or the worst-case scenario of empty supermarket shelves. We will continue our work with Defra and BEIS on this issue."
More to follow…