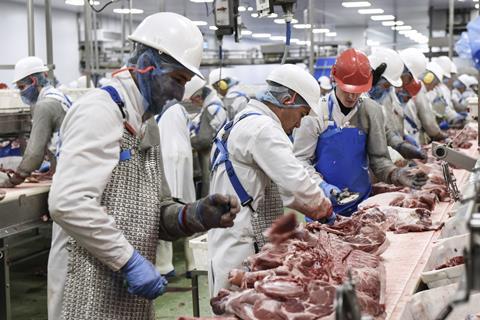 The government has bowed to industry pressure with a package of measures designed to help the pig sector tackle the backlog of tens of thousands of animals on farms across the UK.
Defra confirmed yesterday evening that up to 800 foreign pork butchers would now be eligible to apply for visas from existing allocations within its Seasonal Workers Pilot Scheme.
The scheme will be open for applications until 31 December and will allow foreign butchers to work in the UK for a period of six months.
The move marks a major U-turn in the government's position in the face of vocal protests from the pig sector. It comes as National Pig Association CEO Zoe Davies told The Grocer yesterday that more than 6,000 healthy animals had already been culled on farm, with numbers set to rise significantly over the coming days.
Prime minister Boris Johnson had previously dismissed the concerns of the sector in a series of inflammatory comments last week.
He angered many pig farmers by reacting to warnings that many of the 100,000-plus pigs backlogged on farms would need to be culled – due to a chronic shortage of butchers in the sector and the impact of China's ban on European pork – by making jokes about bacon sandwiches.
Johnson also insisted industry should not "reach for the lever marked uncontrolled immigration" in times of crisis.
Defra has also confirmed it will fund a private storage aid scheme in England, which will enable meat processors to store slaughtered pigs for between three and six months so that they can be preserved safely and processed at a later date.
It added it was also working with industry to "introduce processing of animals on Saturdays and longer working days where possible", while levy bodies AHDB and QMS yesterday announced a levy payment suspension for November, saving pig farmers almost £1m.
Additionally, Defra said it was working with AHDB to find new overseas markets for British pork to replace the volumes lost via China's import ban, while it said it was also "engaging with retailers and foodservice sectors" to increase consumption.
"These measures come in recognition of the unique temporary circumstances farmers are facing," Defra said. It added the "temporary adjustment" was in addition "to foreign butchers already being eligible since December 2020 to apply to come to the UK through the Skilled Worker Route as part of the point-based immigration system".
But it also stressed temporary visas were "not a long-term solution, and businesses must make long-term investments in the UK domestic workforce to build a high-wage, high-skill economy, instead of relying on overseas labour".
The government expected the pork sector "to encourage better training offers, career options and wage increases to ensure the sector draws on the large domestic labour pool in the UK, as well as investing in technology across the industry", it said.
"A unique range of pressures on the pig sector over recent months, such as the impacts of the pandemic and its effect on export markets, have led to the temporary package of measures we are announcing today. This is the result of close working with industry to understand how we can support them through this challenging time," said environment secretary George Eustice.
The NPA's Davies said she was "very relieved the government has finally released some measures aimed at reducing the significant pig backlog on farms".
The organisation was now "working with the processors to understand the impact of these new measures and to determine exactly what will happen now, and how quickly, so that we can give pig farmers some hope and stem the flow of healthy pigs currently having to be culled on farms".
It comes as the government also confirmed it had launched a one-week consultation to temporarily extend so-called 'cabotage' rights. The proposals would mean foreign haulage operators that come into the country laden with goods can pick up and drop off goods an unlimited number of times for two weeks before they return home.
Currently, hauliers from the EU can only make up to two cabotage trips within seven days. Subject to the consultation, the temporary measures would come into force towards the end of this year for up to six months, "helping secure supply chains in the medium term alongside the wider package of measures government has put in place to address the shortage of drivers more broadly".