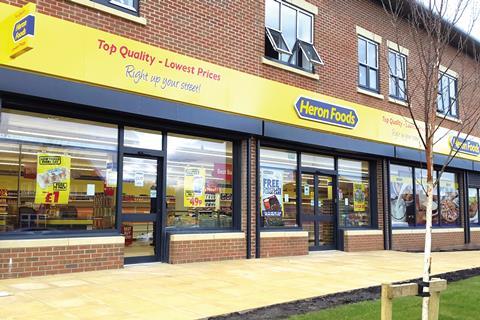 B&M-owned Heron Foods has faltered in its long-term store opening ambitions thanks to disruption of the pandemic.
The frozen food retailer has a long-term vision to grow its business by 20 to 30 stores a year, but the estate grew by just 13 in the year to 27 March 2021, accounts filed at Companies House have revealed.
It's the second year in a row the business has had to lower its long-term sights thanks to disruption to store openings caused by the pandemic. Results for the year to 28 March 2020 said just 16 new stores had been opened and "scaled back" the target for 2020-21 to 15, blaming "the pandemic lockdown".
The new results have revealed a total of 17 were opened in the latest full-year, but several were also closed, resulting in a net 13 stores added.
The long-term "vision" remains "to continue to grow our business by 20 to 30 stores per year" with a "strong pipeline for new store openings through FY22", according to the accounts.
The target for the financial year to the end of March 2022 is back to 20 new stores.
"The company intends to open further stores in the north and Midlands" and "slowly push out into new geographical areas", the accounts said.
The business did not respond to The Grocer's request for comment.
Heron has about 300 stores and supplies chilled and frozen food to about 80 B&M branches.
It is not the only discounter to suffer a setback to its usual estate growth ambitions in the pandemic, with others beset by delays to construction work and store fitouts during lockdowns. A shortage of basic materials and equipment such as shelving and refrigeration has also hampered plans.
Aldi opened 37 stores instead of the usual 50 in 2020, although it is since said to have got back on track with its long-term estate growth plans.
Russian discounter Mere's plans for its first UK store, which opened last month, were also held back by slow progress on fitouts.
Heron Foods Ltd's results put turnover up 6% to £434m.
The company "benefited from the exceptional level of demand at the start of the period due to the coronavirus lockdown but with reduced demand into quarter four", the accounts said.
EBITDA rose from £23 to £23.8m while gross profit climbed from £45.6m to £46.5m.
B&M's latest trading update, for the first quarter to 26 June this year, put Heron's contribution to group revenues at £101.7m, down from £113m, a "satisfactory performance against the very strong comparatives of Q1 FY21".