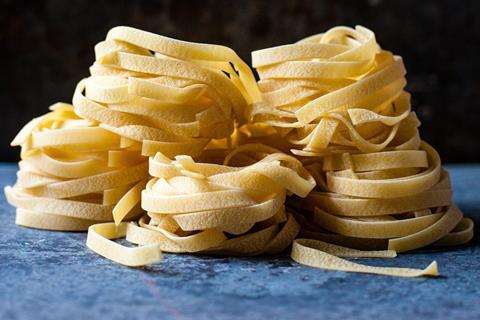 Iceland has grown its pasta sales by a fifth this year, despite stagnation in the wider market.
The frozen retailer grew its sales by 20.1% to £8.3m, according to Kantar data [52 w/e 5 September 2021].
It comes at a time when most of its rivals struggled to grow pasta sales at all, as the category declined 2.2% in value against the tough comparables of 2020.
Admittedly, Iceland's sales grew from a considerably smaller base – the retailer commands just a 1.5% share of the total pasta category.
However, its bigger rivals Asda, Sainsbury's, Tesco and Lidl saw their share of the market fall: their pasta sales declined by 5.9%, 2.7%, 1.1% and 3.4% respectively. The Co-op, meanwhile, saw its sales in the category decline by 19.7%.
Barring Iceland, only Waitrose (up 1.1%), Morrisons (up 0.6%) and Marks & Spencer (up 2.6%) managed to grow pasta sales over the year.
The strong performance comes after the launch of Napolina's frozen pasta exclusively in Iceland. The range, which Napolina claimed was the UK's first range of 'fresh frozen' pastas, hit freezers in April 2020.
Since then, other brands have jumped on the format including Beroni, which debuted its fresh frozen pasta range early this year.
Although total pasta sales have fallen over the past year, the performance has varied widely by format. Many dried pasta subcategories faced double-digit declines – dry fusilli, for example, was down 14.9%.
This was largely down to the demise of scratch cooking "as shoppers have returned to their busy schedules outside of the home", said Kantar analyst Isabella Baker.
However, fresh pastas still put in a strong performance, growing "due to uplifts predominantly in purchase frequency", Baker added. Fresh filled pasta grew fastest, with a 10.2% rise in value sales to total £115.5m.