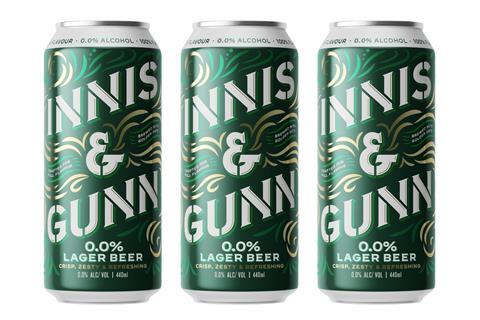 Innis & Gunn has jumped on the low & no bandwagon.
The Scottish beer brand has created a new 0.0% alcohol version of its core lager.
Innis & Gunn 0.0% Lager is claimed to offer "the same full-bodied flavour and refreshment" as the 4.6% abv version.
The beers will roll into 106 Tesco stores across Scotland from 15 November (rsp: £4.25/4x440ml).
They are available at Innis & Gunn Brewery Taproom bars and online from today (8 October).
The drink was brewed at 0.0% – with no alcohol produced or removed during the process – using the same varieties of Styrian Goldings and Super Styrian hops as the original, added at slightly different rates, said Innis & Gunn.
It uses a base of pale ale malt, rather than the blend of lager malt and ale malt used in the 4.6% abv version. This provided a "reassuring maltiness", which it said was hard to achieve in alcohol-free drinks.
Flaked oats, meanwhile, were substituted in for the the golden naked oats used to brew the original, giving the drink "additional body".
Finally, a small amount of roasted barley was added to mimic the golden colour of the 4.6% abv drink, said Innis & Gunn.
Innis & Gunn founder and master brewer Dougal Sharp said the launch was part of its "strategy to grow the brand and to offer consumers more choice on more drinking occasions in different categories".
The brew team had used "pioneering innovation" to create a non-alcoholic beer that was "totally Innis & Gunn", Sharp said.
William Reed – the publisher of The Grocer – runs a trade show exclusively for the low & non-alcoholic drinks industry. For more information visit low2nobev.com