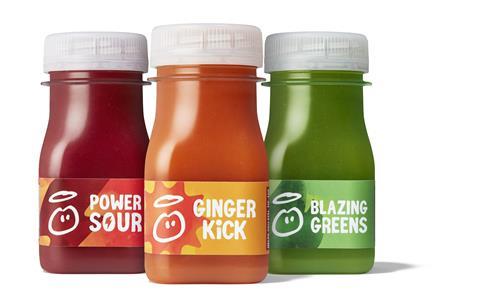 The pandemic put an end to Innocent's run of revenue growth in 2020, but sales are starting to pick back up, it has revealed.
CEO Douglas Lamont told The Grocer "a steady return" of the impulse business as lockdown restrictions ended had led to "an encouraging" performance in 2021, with strong growth expected against 2020 and 2019.
The newly filed accounts of parent company Fresh Trading revealed group turnover fell 2% to £423.4m in the year ended 31 December.
The slump in impulse sales was only mitigated by higher demand in supermarkets.
Prior to 2020, Innocent was experiencing rapid growth as it expanded across Europe. A 2019 launch in Asia marked the group's first move outside the west.
It grew the distribution footprint in Japan during 2020 and also launched into China in May. Lamont said he was "pleased" with consumer reception to the brand in Asia and the operating capabilities already built.
Despite the challenges of 2020, Innocent grew market share for the 11th year in a row, with a 0.1 percentage point increase to 21.4%.
The group also bounced back into the black, with operating profits of £4.8m, compared with losses of £6m in 2019. During the year, the supplier added new flavours to its Innocent Plus range and entered the juice shots category.
"Despite challenging circumstances, 2020 was overall a good trading year for Innocent," Lamont said. "Whilst we were impacted by the closure of foodservice in the pandemic, particularly in the UK, the rest of our business continued to perform well, and we grew our market-leading share across Europe to an all-time high."
He added: "We have seen an encouraging trading performance in 2021, with a steady return of our impulse business, and a good response to our recent innovations, we expect to deliver a strong year of growth both against 2020 and 2019."
Underlying sales in the UK fell from £188m to £171m, with headline revenues of its UK operating arm down 20% to £233.2m due to the impact of the pandemic and changes to the operating model as the group moved into in-house manufacturing.
Lamont said the construction of the $250m carbon neutral factory – dubbed "the blender" – in Rotterdam remained on track, with commercial production expected to start in the third quarter of this year.
Innocent believed the site to be the world's first fully sustainable food and drink facility and is a symbol of its ambitions to use business as a force for good and balance purpose, people, planet and profit.
The company, which is certified as a B Corp, also contributed £2m to the Innocent Foundation, which seeks to help people lacking food globally, and donated more than 200,00 cases of drinks and £600k in cash in 2020.
"Given the events of last year, our number-one focus was the wellbeing of our Innocent team and our commitment to those less fortunate than us, through our 10% of profits to charity," Lamont said.
"I am proud of how our team responded and the fact that Innocent and the Innocent Foundation were able to step forward to support a range of existing charity partners with record levels of giving and support a range of existing charity partners with record levels of giving and support a whole range of key workers across Europe with donations of our products."