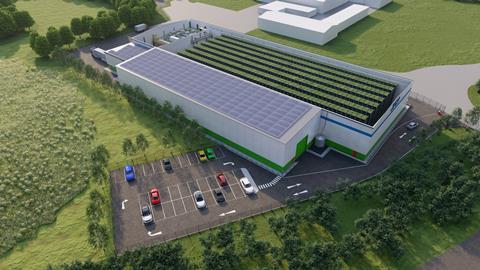 The Jones Food Company (JFC) has today broken ground on what will become the "world's largest vertical farm".
The new indoor farm in Lydney, Gloucestershire will provide 148,000 sq ft of growing space when complete, making it "comfortably" the biggest, the Ocado-backed company said.
The multi-million pound facility – dubbed 'The Garden of England' – will be the size of 70 tennis courts and be able to supply more than 1,000 tonnes of fresh produce to thousands of UK supermarkets, when fully operational.
JFC was founded in 2017 and opened its Lincolnshire facility in 2018, which is Europe's single biggest vertical farming facility. The company said within a decade it plans to supply 70% of the UK's fresh produce from a network of vertical farms.
"We already supply thousands of British retail stores with basil grown in our first facility in Lincolnshire but this new site, which is three times bigger, will allow us to supply tens of thousands more stores and to widen our product offer with our partners," said JFC founder James Lloyd-Jones.
The Garden of England – or JFC2 – will open in early 2022. It will initially grow mint, parsley, coriander, dill, rocket, spinach and mixed salad, the varieties of which have yet to be confirmed.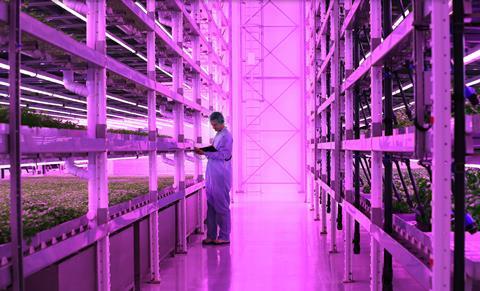 "And this isn't the end, we fully anticipate more facilities in other parts of the country and around the world in coming years. Scale is key to sector success and we now know how to 'do big'. We are seeing investors piling in to support our innovation as they see the scale of opportunity and our rapid growth since 2017," Lloyd-Jones told The Grocer.
Cornwall, Gloucestershire, Yorkshire, Argyll, Fermanagh and "pretty much any other county in this country or any other" were highlighted as future potential JFC vertical farm locations.
"We've learnt so much, had such strong backing and have such amazing technology that we now believe we can replicate and replicate and replicate," Lloyd-Jones added.
Lloyd-Jones said vertical farms were a vital part of the UK's farming future and could ease pressure on the food supply chain which "is under significant stress, with empty supermarket shelves and shortages of foods increasingly commonplace".
JFC's farms allow produce to be grown in 17 layers, making every acre "17 times more productive".
"It allows us to grow entirely without pesticides and using 95% less water. And it means we can significantly reduce the air and road miles of the foods we grow. But vertical farming doesn't just make environmental sense, it makes economic sense too. Scale is vital in order to create a cost base that allows us to deliver delicious, healthy herbs, salad leaves, cut flowers, fruit and veg at a price the average shopper also really likes. This second facility further cements our ability to do this," Lloyd-Jones said.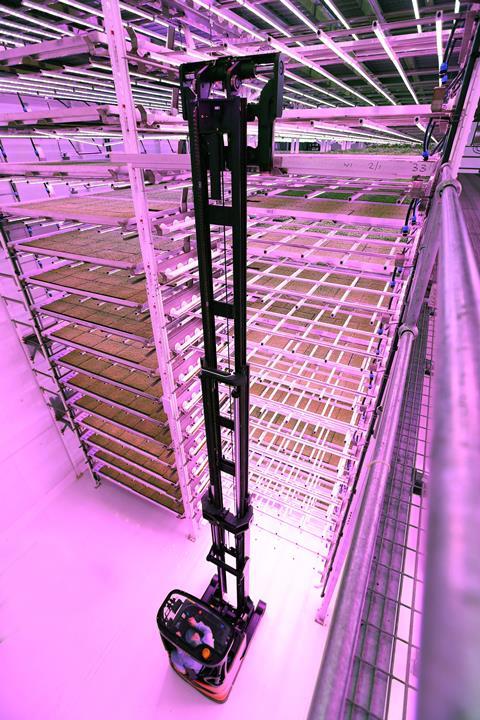 Ocado upped its stake in JFC last year to help support the building of the farms. The online grocery giant initially bought a 58% stake in the company in November 2019 and is understood to have exercised an option in that deal to grow its ownership to approximately 70% of the company.
Ocado invested in the company as part of a wider £17m bet on vertical farming that also saw it form a joint venture with Netherlands-based Priva and US-based 80 Acres, called Infinite Acres.
In August, vertical farming firm Infarm announced it was to open what it claimed is one of the largest vertical farming facilities in Europe, in Bedford. The new 9,760 sq m 'growing centre' is expected to harvest its first crop of herbs and salad in the fourth quarter of this year.
The market opportunity for vertical farms is huge. Barclays Research analysts estimate the size of the global fruit & vegetable market is roughly $1.2tn (£800bn), and calculate that the addressable produce market for vertical farms is closer to $700bn (£513bn), leading to an approximately $50bn (£36.7bn) market opportunity.
"Vertical farming is no longer 'coming of age' – it has arrived and is rapidly scaling," Lloyd-Jones added.