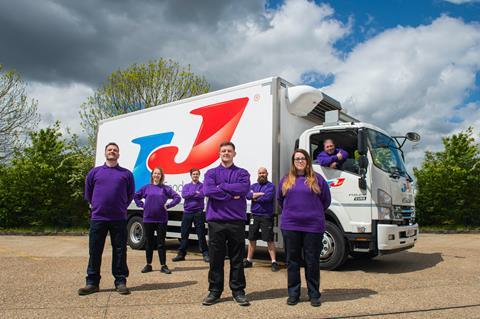 JJ Foodservice has increased salaries to £40k for HGV drivers at its London branches in response to the ongoing labour shortage.
The increase from £35k per annum represents a rise of 14.3%. It will apply to drivers working from its Enfield, Dagenham and Sidcup depots.
In addition to the salary increase, the wholesaler said it was offering state-of-the-art vehicles, no evening or weekend working, local deliveries, no rotas or shift work and consistent start times.
"Drivers already have a hard job – we want to create the best working environment for them with the comfort of an office job," said head of operations Kaan Hendekli.
"On top of offering a great work-life balance, our drivers also have a stable, daily routine and the support of a driver's mate."
JJ supplies more than 83,000 restaurants and homes across 11 UK branches.
"Offering excellent working conditions for drivers will help us to grow our delivery team to support even more customers in the future," added Kaan.
The pay rise is the latest move by JJ to mitigate to impact of the current 100,000 shortfall in HGV drivers across the UK.
Earlier this year it spent £1m on 20 new trucks. It ran a recruitment campaign to encourage more women into HGV driver roles and launched an incentive scheme for customers to use its click & collect operation.