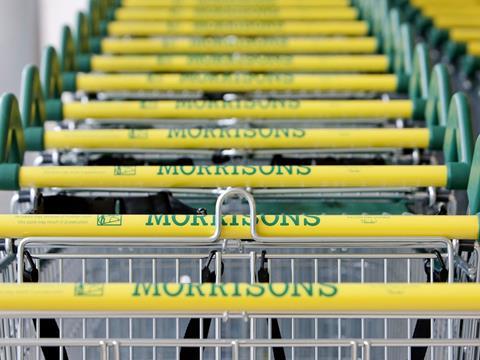 Top story
US private equity firm Clayton, Dubilier & Rice (CD&R) has prevailed in the one-day auction for Morrisons over the weekend.
The firm raised its offer by 2p to 287p to outbid Fortress Investment Group, which only went as high as 286p.
It values the supermarket at £7.1bn – £9.8bn including debt – but the price was less than markets had hoped, with shares in Morrisons closing at 297p on Friday.
Morrisons shareholders will vote on the CD&R offer at a meeting on 19 October.
The takeover will see CD&R advisor – and former Tesco boss – Sir Terry Leahy return to the grocery market, although his intended position on the Morrisons board is yet to be announced.
Leahy said: "We are gratified by the recommendation of the Morrisons board and look forward to the shareholder vote to approve the transaction. We continue to believe that Morrisons is an excellent business, with a strong management team, a clear strategy, and good prospects."
Morrisons chairman Andrew Higginson added that the final 287p offer represented "excellent value" for shareholders while at the same time "protecting the fundamental character" of Morrisons for all stakeholders.
The bid represented a 61% premium to the 178p share price back in June before the original CD&R bid was made public.
"CD&R have good retail experience, a strong record of developing and growing the businesses in which they invest, and they share our vision and ambition for Morrisons," Higginson said.
"We remain confident that CD&R will be a responsible, thoughtful and careful owner of an important British grocery business. Shareholders will now have the final say and, if the offer is approved, the board is confident that Morrisons will continue to go from strength to strength under CD&R's ownership."
It brings to end a takeover saga that has dragged on for four months, with the Fortress consortium and CD&R locked in a bidding war.
Morrisons first turned down a private bid from Fortress in May, which wasn't made public at the time. The supermarket then publicly rejected a 230p offer from CD&R in June, leading the share price to take off.
The board agreed to back a £6.3bn offer from Fortress at a price of 254p a share in July, with the consortium pre-emptively raising its bid to 270p (plus a 2p special dividend) the following month after large institutional shareholders voiced reservations about the deal.
The Morrisons board then switched allegiances to CD&R following a new 11th-hour bid of 285p tabled just before a put-up-or-shut-up deadline.
Fortress was widely expected to come back with yet another bid, with the City's Takeover Panel stepping in to set up Saturday's five-round auction to settle the winner.
Shares in Morrisons tumbled back down by 3.8% this morning to 285.8p.
Rival supermarket Sainsbury's received a 1.9% bounce to 289.9p as markets weighed up whether Fortress or another PE suitor may move their interest on to other grocery assets.
Tesco rose 0.5% to 249.2p.
Morning update
Elsewhere this morning, desserts retailer Cake Box has reported soaring first-half revenues as consumers were able to meet up and celebrate once more following the ending of lockdown.
Total sales in the six months ended 30 September rose 91% to £16.4m, while revenues in the final four months of the period increased 50% to £11.1m, compared to the same four months a year ago, which excludes the impact of the March 2020 lockdown and associated store closures.
The company said in th etrading update it had continued to see strong growth from its own online delivery channels via third-party platforms, including Uber Eats, Just Eat and Deliveroo, with franchisee online sales increasing 68% to £6.7m during the period.
Cake Box opened 20 new franchise stores in the half, with the total estate totalling 174, and also expanded its ongoing kiosk trial with Asda.
As a result of this strong performance, the group added it was confident of making further progress over the second half and meeting full-year expectations.
CEO and co-founder Sukh Chamdal said: "Our performance during the last six months demonstrates the ongoing appeal of our unique cake offering.
"Our supply chain is robust, with several months of ingredients and the right measures in place to ensure that no event goes uncelebrated and no slice of cake goes unbaked, undelivered or uneaten.
"In short, more customers are enjoying our delicious egg-free cakes, and more of our fantastic franchisees are selling it to them."
Shares in the business shot up 9.5% to 368p on the back of the positive update.
The FTSE 100 started the new month on the back foot, falling 0.2% to 7,015.50pts this morning.
After collapsing by more than 40% on Friday following a profits warning, Parsley Box bounced back this morning. The DTC ready meals provider jumped 16% to 40.2p upon markets reopening. The business floated at 200p a share back in March.
Other risers included Sainsbury's and Tesco, as well as Hotel Chocolat and Diageo.
Early fallers included Deliveroo, down 4.7% to 272.8p, THG, down 4.5% to 434.9p, and Morrisons.
This week in the City
It is looking distinctly busier in the City this week for the food and drink sector.
Tomorrow kicks off with delayed results from Hotel Chocolat, as well as a trading update for the third quarter from Greggs, while PepsiCo releases quarterly figures in the US.
The big news of the week comes on Wednesday with the Tesco first-half results, with a trading update from tobacco firm Imperial Brands and quarterly results from Constellation Brands.