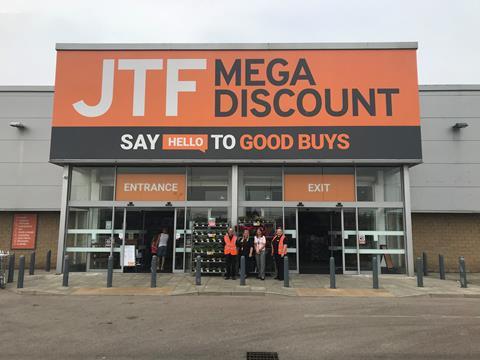 JTF Mega Discount Warehouse stores have begun reopening following the sale of the stricken chain to the owners of Poundstretcher.
JTF's Tamworth store reopened on Thursday (10 September) selling a "large range of cleaning, toiletries, food and drink, home, garden and much more", according to its Facebook page.
Other JTF stores including Kidderminster, Leeds and Newcastle are advertising for staff on their separate Facebook pages. Positions available include duty manager, supervisor, cashier and shopfloor worker. The Kidderminster page is also looking for warehouse operatives.
The Grocer revealed in July that all 12 of JTF's stores in the Midlands and north of England had shut, and its roughly 500 staff had been told they faced redundancy.
Last week it emerged the brand and other assets had been bought from administrators by Bargain Buys, a subsidiary of Poundstretcher. The new owners also acquired the licence to operate nine JTF stores, including Barrow, Hucknall, Hull, Lincoln and Stoke.
The Preston, Sheffield and Warrington stores have permanently closed.
Administrators at business advisory firm FRP said they were working with the pensions regulator and redundancy payments service to support the former JTF employees who were made redundant, and a specialist team was helping process claims.
JTF is a 40-year-old retailer that sells a wide range of general merchandise, including homewares and garden furniture, alongside food & drink in its out-of-town warehouse-style stores.
A spokesman for the business pointed to the "unforeseen and significant challenges" of the pandemic after it ceased trading in July. Then-chairman Arthur Harris said he believed he had done "everything possible" to turn the chain around after buying it in January 2020 "but just hadn't factored Covid into the scenario".
Poundstretcher launched its own restructuring plan last year, in a company voluntary arrangement seeking rent cuts on hundreds of stores. The Grocer reported earlier this month that 63 landlords had exercised their right under the CVA to serve the retailer with a notice to vacate stores.