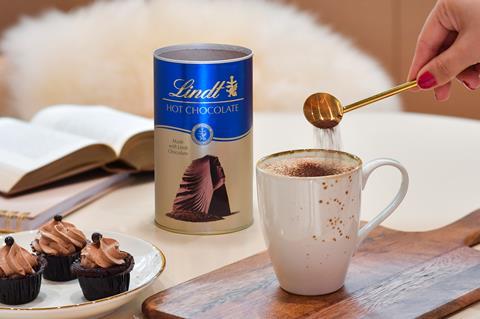 Posh confectioner Lindt is set to challenge Cadbury for hot chocolate domination with its debut in drinks.
The brand has unveiled Lindt Hot Chocolate powder, billed as a "velvety smooth and luxuriously creamy hot chocolate drink" made using Lindt chocolate (rsp: £4/300g).
The NPD was "equally tempting served with a cold milk of your choice as a delicious refreshment on sunny days" and "guaranteed to satisfy any chocolate cravings", said the brand.
The drink was "instantly super smooth when gently stirred with milk due to Lindt's innovative production process which increases solubility in hot and cold milk", it added.
It has rolled into Tesco, Amazon, Ocado and Lindt's chocolate shops.
The launch comes on the back of a stellar performance in retail for the Lindt brand over the last year.
Over the 52 weeks to 17 July 2021, the brand grew its value sales by a cool £34.8m to £185.9m – that's a 23.1% increase [NielsenIQ].