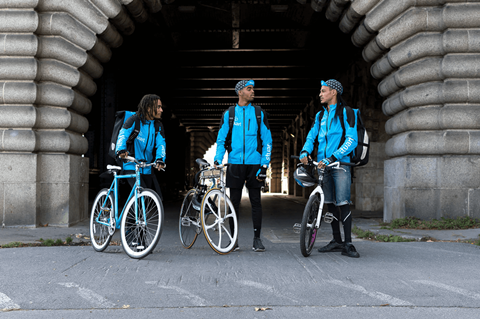 The Court of Appeal this week ruled a former Stuart delivery rider was a worker and the company was unlawful in denying him rights such as minimum wage and holiday pay.
Stuart – which is the courier partner for Tesco's rapid delivery offering Whoosh as well as Pizza Hut, Just Eat, McDonald's, KFC and Nespresso – now faces a fresh legal challenge from a group of 207 riders, also demanding they be recognised as workers.
The court on Monday ruled moped delivery rider Warren Augustine was a 'limb (b) worker', since Augustine was required to complete delivery jobs personally, and was unable to appoint a substitute to carry out the work.
Stuart tried unsuccessfully to argue that because it reallocates any jobs rejected by a courier, they have the right to substitution – part of the definition of an independent contractor. Lord Justice Lewis agreed with the findings of a previous employment tribunal that "the claimant's ability to release a slot to other couriers via the respondent's app was not a sufficient right of substitution".
"Stuart has tried to deny Mr Augustine's important workers' rights three times, first in the Employment Tribunal, then in the Employment Appeal Tribunal and now in the Court of Appeal. Three times it has failed," said Gabriel Morrison, a solicitor in the employment team at law firm Leigh Day, which represented Augustine.
"This goes to show what we have been saying all along is right: Stuart couriers should be classed as workers and given the rights they deserve," he added.
Leigh Day is now bringing legal claims on behalf of hundreds of Stuart riders, arguing the ruling applies to them too.
"This is another huge blow for the exploitative employment model adopted by many companies in the so-called gig economy. It proves workers can have both flexibility and workers' rights. One by one companies are being told to pay up and obey the law," said Alex Marshall, president of the Independent Workers' Union of Great Britain (IWGB).
The union said misclassification of workers is widespread in the gig economy, in which 7.25 million people are likely to work in 2022 according to ONS projections.
"It should not be the responsibility of low-paid workers and their trade unions to organise and take legal or direct action in order to achieve these outcomes, but the IWGB and its members will continue to hold bad employers to account in order to end systemic exploitation," Marshall said.
Stuart had been the delivery partner of Ocado's rapid service Zoom but it has this summer transferred them to another third partner delivery firm, Ryde. Couriers said their pay and conditions went from "bad to worse" with Ryde.
This month Ocado said it had "ended our relationship with existing third party suppliers and offered all drivers employment directly with Ocado".
All Zoom drivers "are now part of our permanent workforce with certainty of hours, competitive remuneration, and access to employee benefits that we believe are market-leading" Ocado said.
Just Eat is also slowly ditching Stuart as a delivery partner, with riders transferred to direct employment.
Of the court case, a Stuart spokesman said it respected the court's decision.
"Since then we have made a number of changes to our business and our operating model as part of our ongoing commitment to being the best delivery platform for couriers seeking flexibility and financial security," the spokesman said.
"We regularly survey our courier partners to ensure we are fulfilling this commitment and the results demonstrate the overwhelming majority of couriers are satisfied performing deliveries through the platform," he added.
Worker rights have this year been won by Uber drivers after the Supreme Court in February ruled a small group of Uber drivers had the right to be classed as workers. The IWGB has in recent months won reclassification and basic rights for workers at a number of gig economy firms including eCourier and Addison Lee.