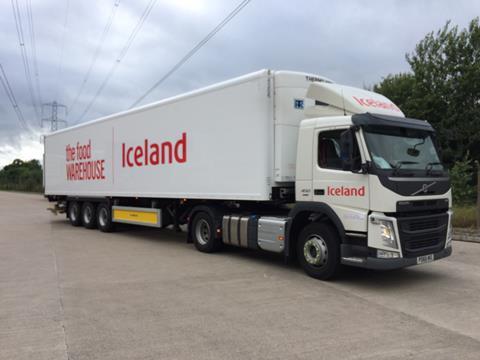 Iceland is cancelling 250 store deliveries a week as it grapples with the national lorry driver shortage.
It's a 15% reduction to Iceland's usual frequency of store deliveries as the frozen food retailer struggles with its own shortage of 100 drivers.
"For small stores like ours, with limited back-up stocks, a missed delivery quickly results in gaps on the shelves," Iceland MD Richard Walker wrote in his latest blog.
Some of Iceland's six distribution centres have started using 'class 2' drivers qualified only to drive smaller and more rigid lorries, meaning smaller loads, according to Walker.
"All our suppliers face the same issues, too, so every day we are missing around 10% of the stock we have ordered into our depots," he said.
Repeating recent comments he made to BBC Radio 4's Today programme, Walker also said Christmas was under threat from food shortages and slammed the "Westminster bubble" for classifying ballets dancers as skilled workers for immigration purposes but not lorry drivers.
"I'm a big fan of culture myself, but I can't help feeling that getting food on our tables really ought to take priority here," he said.
He said Iceland's logistics partner was setting up its own driver school offering training to HGV class 1 level, required for big articulated lorries, but a six-month waiting list for tests presented a further barrier.
"I'm still kept awake by the scenes of panic buying in March 2020 – and the longer the government leaves it to take action, the worse the current crisis is going to get and the bigger the gaps on the shelves we will see as consumer demand ramps up in the run-up to Christmas," Walker continued.
"After the 'lost Christmas' of 2020, this year we may hope to be allowed larger family gatherings – but our ability to enjoy them looks like being very much at risk from food shortages."
Walker has for weeks been calling on the government to address the national lorry driver shortage – put at 100,000 by the Road Haulage Association – by adding the occupation to the skilled worker list for immigration purposes. However, his letters have gone unanswered, he said in his blog.
"I wrote weeks ago to a number of government departments warning them of this escalating problem, but I haven't received any replies," he said.
Commenting on a recent suggestion from "government spinners" that army truck drivers could be drafted in to ease the crisis, Walker said: "I'm not convinced the skills required to drive a lorry to the battlefield are necessarily the same as those needed to move supplies from depots to a series of shops."
Walker's blog also calls for more young people to be encouraged into the occupation in the long-term.
"Amazingly, the average age of a British truck driver is currently over 55," he said. "A job that comfortably pays £40,000 per year – nearly 30% above average earnings – should appeal to many. That it clearly doesn't is a reflection on the lack of respect we show to those playing this vital role in our society."
Iceland has about 1,000 stores across the UK including branches of The Food Warehouse.