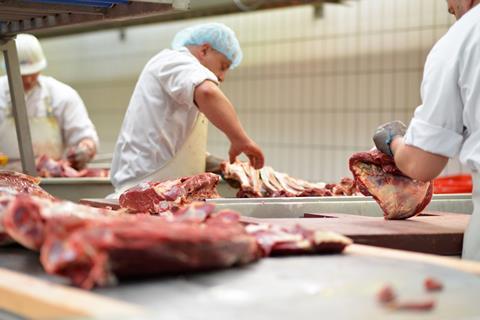 Meat suppliers are already having "difficult conversations" with supermarkets over large-scale range rationalisations for the autumn and Christmas periods due to the HGV crisis.
One major supplier told The Grocer its already simplified ranges could be further cut in the run-up to the festive period, with higher volume lines prioritised over more labour-intensive cuts in a bid to ensure supplies.
While pigs in blankets have been touted as the standout victim of crisis-led range simplification, it is understood to also extend to added-value meat lines such as seasoned and cooked pork products, in addition to gammon and even some smoked bacon SKUs as suppliers go "back to basics" in their offerings.
Provision Trade Federation chair Rob Smith said the trade body's membership was "experiencing very similar issues", amid mounting concerns over how the sector would fulfil demand over the coming months.
"We are now coming into the planning season for Christmas, when we would normally be switching to seasonal products and gearing up production to meet the traditional annual surge in demand," he said.
"Manufacturers are already having conversations with customers to discuss these challenges and consider what can be done, including simplifying ranges and using more frozen or longer shelf-life ingredients."
At the same time, suppliers are facing the potential of further disruption when the UK's new Border Operating Model for imports comes into effect on 1 October, Smith warned.
His comments come as the British Meat Processors Association last week said many meat companies were already six weeks behind their Christmas production schedules due to average labour shortages of at least 15%. Meanwhile, the bosses of retailers including Iceland, Tesco and The Co-op have also warned in recent days that shortages could hamper Christmas trade.
It follows recent warnings from poultry suppliers such as Avara Foods and 2 Sisters, along with the British Poultry Council, that the crisis could lead to at least 20% fewer fresh turkeys and more frozen birds on sale this Christmas.
The PTF's Smith echoed calls by the BMPA and BPC this week by calling on government to "play its part" in tackling the crisis, "not least in respect of temporary visas or seasonal worker schemes, as well as bringing supply chain partners together to help address some of the more structural issues".
Amid the shortages, The Association of Independent Meat Suppliers this week said it was seeking to employ prisoners via the Release On Temporary Licence programme. Spokesman Tony Goodger said AIMS had also engaged the New Futures Network, part of HM Prisons & Probation Service, "to discuss how our members might be able to employ current offenders and prison leavers".
Several of the trade body's members were now speaking with local NFN staff about opportunities within their businesses for prison leavers, he added.
"The Home Office have told us that we should look to the UK's domestic labour force to fill the vacancies," Goodger he said.
"With few applicants coming through this route we have suggested to our members that they look to alternative pools of available labour such a prison leavers, many of whom find it hard to gain employment upon release. If the food industry can help reduce re-offending through employment, there is a benefit for both the offender and society as a whole."