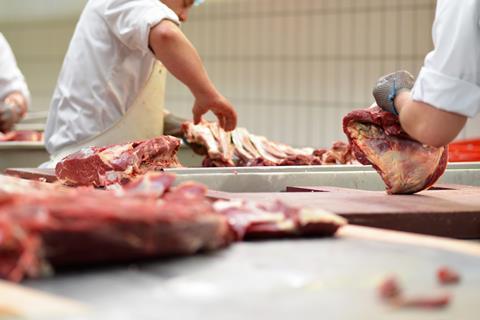 The meat sector has welcomed government plans to introduce a food processing module to one T Level course but called for more to be done to ease existing and possible future labour shortages.
As part of an announcement last week that £50m would be invested in English colleges, schools and sixth forms in 2022 to improve and expand teaching facilities, the Department for Education revealed the engineering, manufacturing, processing & control T Level would contain a food processing 'technical qualification' module.
Due to begin in September 2022, this module would allow students to acquire knowledge and skills drawn from the advanced baker, food and drink advanced process operator and science manufacturing technician occupational standards, DfE said.
It marked a minor victory for the Association of Independent Meat Suppliers, which had called for the introduction of such a module earlier this summer. But the organisation's spokesman Tony Goodger urged the government to go further.
"AIMS has been asking for some time now for food processing to be included in T Levels," he said. "It is good to see that this has now progressed to a module within the engineering, manufacturing and processing skills T Level."
"However, we still believe – given the importance of the food manufacturing industry to the UK economy – that [the government] should consider a standalone T Level for food processing. We believe that a T Level with food industry emphasis will help students aged 16-plus to consider a career in our sector."
Goodger added such action would be needed to alter the negative perceptions of the food and drink industry that were highlighted by last week's Grant Thornton report into labour shortages.
The report said the sector's lack of attractiveness to workers was being driven by careers advice in schools promoting office jobs, a lack of infrastructure in Jobcentre Plus and other agencies to match potential applicants to such roles, as well as a poor understanding of what the food and drink industry of today looked like.
It called for the UK government and devolved administrations to work with the industry to promote food and drink roles, take a more co-ordinated approach to training and introduce more retraining, education and apprenticeship opportunities that could allow workers to enter the sector.
One of the report's sponsors – the British Meat Processors Association – said in the short term, the government could also introduce a 12-month Covid-19 recovery visa to alleviate the labour crisis and add butchers and HGV drivers to the shortage occupation list.