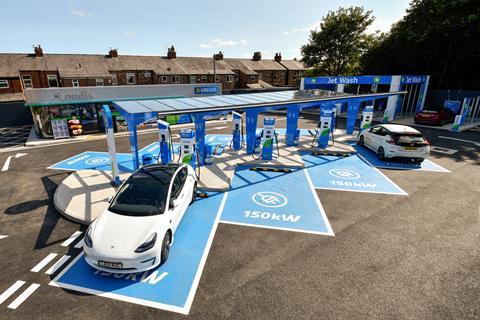 Motor Fuel Group has opened its first forecourt dedicated to electric vehicles in Stretford, Manchester.
The site will contain eight ultra-rapid 150kW EV charging bays that deliver 100 miles of range in 10 minutes of charging. There is also a Londis and Greggs on site, as well as a valeting centre.
The forecourt giant said more than 60% of dwellings in cities and urban areas in England did not have garages or other off-road parking provisions and had to rely on electricity from publicly accessible networks.
This would therefore increase the infrastructure available to drivers and help to "alleviate range anxiety and increase drivers' confidence" in electricity as a fuel source, it said.
"It is extremely exciting to be able to offer a dedicated ultra-rapid EV charging option to both our local community and those travelling through," said MFG Stretford contract manager Velautham Ravichandran.
"We are now well positioned to serve UK motorists well into the future in this part of Manchester."
MFG CEO William Bannister said: "We are delighted to be opening this EV-only forecourt that offers ultra-rapid charging on the Chester Road in Stretford, which is a first for the north west of the country. With eight ultra-rapid charging bays, we believe this site will help lead the local transition to more sustainable electric vehicles."
"MFG is committed to playing our part in 'levelling up' the charging infrastructure across the UK, beyond London and the south east."
This move forms part of its plans to invest £400m in ultra-rapid EV charges across its UK network by the end of 2030.
It said it would continue to provide its existing fossil fuel infrastructure while rolling out EV charging hubs as it sets out to operate a dual fuel strategy over the coming decades. This is to support the "millions of motorists" that will require fossil fuels after the 2030 sales ban of new petrol or diesel cars while enabling their transition to clean fuels, MFG added.
"We are investing heavily in ultra-rapid EV charging hubs alongside our existing fuel and convenience store network throughout the UK, including recent openings in Bristol and Birmingham and planned openings in Scotland and Wales this year," said Bannister.
"This is on top of a significant investment already by MFG in London, which is leading the way in promoting cleaner motoring."