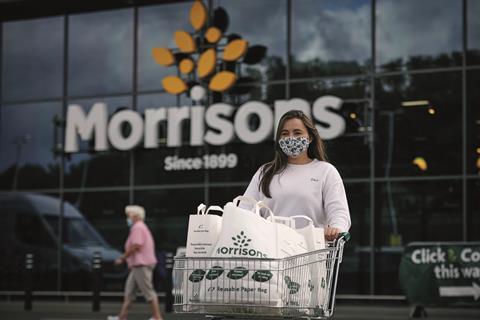 Shareholders in Morrisons have given the all-clear for the £7.1bn takeover by Clayton, Dubilier & Rice (CD&R) to go ahead at today's general meeting.
It brings to a close a heated five-month battle between two US private equity giants to buy the British supermarket chain.
The deal needed the backing of at least 75% of voting stakeholders at the special meeting convened today, which was held physically and virtually.
Shareholders voted overwhelmingly in favour of CD&R's tabled offer – which included a list of assurances over the sale of the store freeholds, pensions and workers – with 99.2% giving their approval.
Morrisons chairman Andy Higginson said: "We thank shareholders for the strong support received at today's meetings. We remain confident that CD&R will be a responsible, thoughtful and careful owner of Morrisons and we will now move forward with the remaining steps in the acquisition process."
Leahy, who is set to replace Higginson as chairman, added: "We are very pleased to have received the approval of shareholders and are excited at the opportunity that lies ahead.
"The particular heritage, culture and operating model of Morrisons are key features of the company and we will be very mindful of these during our tenure as owners. We very much look forward to working with the Morrisons team, not just to preserve the company's many strengths – but to build on these, with innovation, capital and new technology – helping the business realise its full potential and delivering for all of its stakeholders."
The CMA still need to run the rule over the deal to evaluate if there are any competition issues arising from the takeover, with CD&R also owning forecourt operator MFG.
However, today's vote effectively ends Morrisons 54-year run as a publicly listed company.
Trading in its shares are set to be suspended on 27 October, with its listing on the London Stock Exchange to be cancelled the following day.
CD&R outbid Fortress Investment Group by a penny at a highly anticipated one-day auction earlier this month, with its 287p a share offer receiving the backing of the Morrisons board.
The PE firms had been locked in a bidding war since June when Morrisons revealed it had turned down a unsolicited 230p-a-share offer from CD&R giving it a market value of £5.5bn. The board subsequently threw its weight behind a 254p-a-share offer from Fortress, which then upped the bid to 270p, plus a 2p special dividend, after the company's largest shareholders publicly questioned whether the supermarket was being undervalued.
Morrisons then switched support to CD&R, which is advised by former Tesco boss Sir Terry Leahy, when the PE house upped the stakes to 285p a share, valuing supermarket at £7bn.
With both investment firms at loggerheads, the City's Takeover Panel stepped in to arrange a one-day auction to decide a winner in the battle.