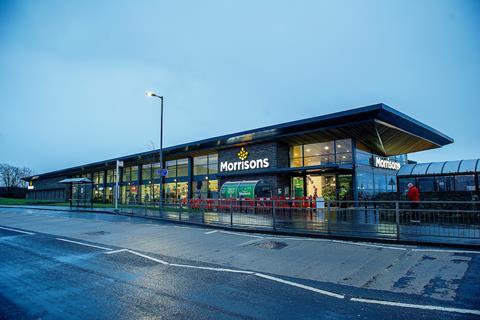 US private equity giant Clayton, Dubilier & Rice has moved into pole position in the bidding war for Morrisons, having agreed a new £7bn 285p per share deal for the supermarket.
The Morrisons board had previously agreed a deal with a Fortress Investment Group-led consortium for 272p per share (including a 2p per share dividend), but has now recommended shareholders accept the new CD&R offer after it hiked its bid from its previously rejected 230p per share offer.
The new CD&R offer represents a 60% premium to Morrisons' closing price of 178p on the day prior to its first bid becoming public.
The offer now represents an enterprise value of £9.7bn (including debt) and a multiple of approximately 9.0 times Morrisons' underlying EBITDA for the 52 weeks ended 31 January 2021 and approximately 9.4 times Morrisons' underlying (pre-COVID-19) EBITDA for the 52 weeks ended 2 February 2020.
The Morrisons board have said the new offer is "fair and reasonable" and has advised shareholders to accept the offer at a shareholder meeting expected to around the week commencing 4 October.
Commenting on the CD&R Offer, Andrew Higginson, chair of Morrisons, said: "CD&R have a strong record of developing, strengthening and growing the businesses that they invest in and they share our vision for Morrisons' future.
"This, together with the strong set of intentions that they have set out today, gives the Morrisons Board confidence that CD&R will be a responsible, thoughtful and careful owner of an important British grocery business."
Sir Terry Leahy, senior adviser to CD&R funds, said: "CD&R is delighted to have the opportunity to support the management of Morrisons in executing their strategy to grow and develop the business.
"The grocery sector in the UK is undergoing great change and we believe Morrisons is well placed, with CD&R's support, to succeed in this environment. CD&R values Morrisons' distinctive business model and is committed to supporting it, including the successful ESG and broader stakeholder engagement strategies of the company that are essential to its continued success."
CD&R said it "believes Morrisons is a high quality business that is well-positioned within UK grocery and led by a strong management team" and that it "recognises the strength of Morrisons' heritage, the legacy of Sir Ken Morrison and its long-term track record of working with and for customers and stakeholders".
The private equity bidder, unlike the Fortress consortium, has not made specific pledges on how it will run the business, such as commitments on its headquarters or property portfolio.
Instead CD&R said it is "committed to supporting Morrisons to capitalise on these foundations and to execute successfully the current strategy to deliver both growth and profitability".
These strengths, it said, include its freehold property portfolio, which affords greater flexibility and operational control, as well as its vertical integration, which enables it to compete successfully on price and guarantee the quality of its products in partnership with local suppliers and farmer
"CD&R is widely recognised for being a trusted partner to the management teams of the businesses in which it invests and for providing ongoing support to help them innovate, develop, and grow their operations.
"CD&R has dedicated significant resources to develop an in-depth understanding of the Morrisons management team's vision for the business and is committed to supporting the existing team in continuing to execute its strategy, including the 'Fix, Rebuild, Grow, Sustain' strategy which has served the business and its stakeholders well."
Responding to the news, the rival Fortress-led consortium said it was "considering its options" and urged Morrisons shareholders to take no action.
Morrisons shares are up a further 4.3% to 291.2p this morning on the news.