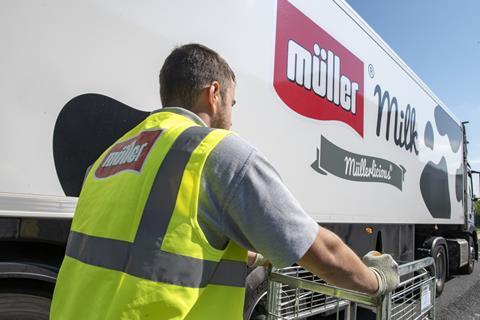 Müller UK & Ireland has hailed the success of its Project Darwin turnaround plan after it arrested more than half a decade of losses with a move into the black.
The dairy giant posted an operating profit of £17.2m for the year to 31 December 2020, according to its latest accounts lodged with Companies House. This compared to a loss of £73.1m during the previous 12 months and cumulative losses in the region of £700m since its incorporation as a limited liability partnership in May 2013.
Müller also saw revenues grow by just under 1% during its most recent accounting period – from £1.9bn to £1.92bn – on the back of what it described as "strong processes" in manufacturing, with "significant improvements" to operational efficiencies and continuing investment in its dairy facilities.
Müller Milk & Ingredients – which has been the main source of Müller's losses over recent years – had "successfully addressed its structural losses" and moved back into profitability through the success of the Darwin restructuring and efficiency programme "together with negotiating sustainable contracts with its major retailers", the supplier's accounts said.
Müller Yogurt & Desserts volumes had remained "stable" over the past year in line with the wider market, it added, with "strong growth" in its split pot brands Corner and Bliss.
However, this was offset by the continuing decline in its Müller Light brand, which had "a more challenging year", the company's directors said. Indeed, according to The Grocer's Top Products survey for 2020 [Nielsen 52 w/e 5 September 2020], Müller Light saw sales fall by £16.2m last year, taking the brand's total losses since 2017 to more than £60m.
But despite those particular challenges, the wider business "responded well" to the coronavirus pandemic, the accounts stressed. "We safeguarded our employees and rationalised our product range in order to meet volume demands in our effort to feed the nation," it added.
The high levels of sickness throughout the business had prompted "outstanding efforts to maintain supply in the most challenging of circumstances", it claimed.
"Maintenance of supply drove additional costs into the business and dramatic fluctuations in cream and butter prices also impacted results," Müller said.
However, these costs were somewhat offset by temporarily higher customer demand and lower prices for some of the supplier's key commodities, with Müller finishing the year at a profitable run-rate. The company's board expected the business to continue its improved performance into the current accounting period, and "make a full-year profit in 2021".