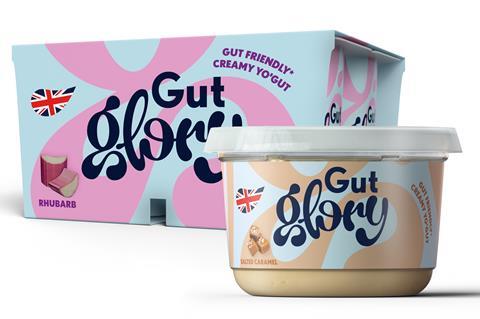 Müller has continued its move into gut health through the launch of its first standalone UK yoghurt brand.
Prompted by Müller's own research into the gut health category, which found there had been 12% year-on-year value sales growth [Nielsen MAT June], the new Gut Glory brand would hit cues Müller suggested were currently absent from the market, it said.
The brand rolls into Asda from 23 August in both big pot (rsp: £1.80/450g) and multipack (rsp: £2.25/4x125g) variants. The big pots will come in salted caramel and strawberry variants, while the four-packs will be available in strawberry, rhubarb and peach & mango flavours.
The dairy giant said the brand would carry an irreverent tone, as well as a contemporary and simple design, in a bid to offer a point of difference to current digestive health offerings it said were "too scientific or functional".
It claimed these criticisms had been backed up by shopper research, which found these particular attributes were putting off potential new entrants to the category.
Müller said Gut Glory will be made from British-sourced milk which will be processed at its Market Drayton site. Containing live cultures, the yoghurts are also set to be a source of calcium and fibre.
"We have seen a natural move towards increased awareness and concern for health, which would explain the growth we are seeing in the digestive health yogurt segment," said strategy and marketing director at Müller Yogurt & Desserts Michael Inpong.
"In this case, we identified demand, and a unique growth opportunity to introduce an exciting and contemporary new gut health brand. With a bold and irreverent brand, and a big pot option, we believe we have a distinctive proposition that will resonate with shoppers.
"It doesn't place an emphasis on the complicated science behind gut health, it is deliciously creamy, gut-friendly and a really exciting milestone for the business."
The launch is set to be accompanied by what Müller called a "disruptive and tongue-in-cheek" multimedia marketing campaign that would take in digital, social media, out-of-home and in-store.
It forms the dairy giant's latest step into the gut health category, having launched its Kefir Smoothie range in June.