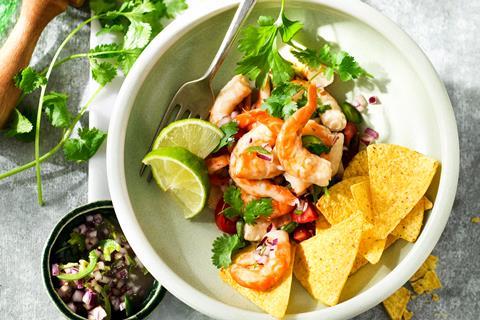 Nestlé has unveiled plans for a swathe of plant-based NPD spanning fish, seafood and egg replacements.
The fmcg giant has created a plant-based shrimp, called Vrimp, under its Garden Gourmet brand. They are made from soy and flavoured with bell peppers, paprika and carrot.
The NPD is being trialled in the Swiss market, with plans to bring it to the UK and other global markets at a later date.
Marine sustainability was "becoming very important to many people", Nestlé chief technical officer Stefan Palzer told The Grocer, specifically shrimp farming, which was doing "quite some damage to the marine ecosystem".
Nestlé is also working on a swathe of fish and seafood alternatives to roll out in future.
Fish alternatives were "absolutely" the next frontier in the growth of plant-based products across the globe, Palzer said.
Nestlé was "expecting rapid growth" but with "slightly different motivation" to the rise of plant-based meat alternatives, he said.
Nestlé has also set its sights on growing into egg alternatives with a plant-based, liquid egg called Veggie, also under Garden Gourmet, which like the 'shrimp' is launching first into the Swiss market.
The liquid is made with soy protein, carrot concentrate, water and natural flavouring.
Vegan smoked salmon and ham lines are also in the works.
Nestlé CEO Mark Schneider said the business had switched up its NPD development process and was now able to bring it to market in a matter of months since conception, trialling new launches in the market rather than with focus groups – as with Vrimp and Veggie.
"The only true data is real people spending real money on a real product," he said. "You get it to a level where you feel like it's ready for a wider rollout then you add one country after another."