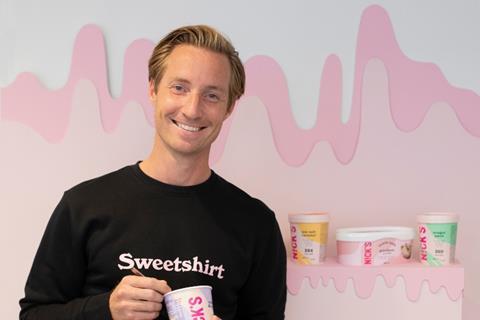 Swedish healthy snacking group Nick's is stepping up its growth plans in the UK after closing a $100m (£72.7m) fundraising round.
CEO Stefan Lagerqvist told The Grocer the business was aiming to follow the rapid expansion of fellow Swedish brand Oatly but in the better-for-you category.
Nick's uses the latest food tech to produce a range of 'healthy, indulgent' low calorie ice cream and snack bars using sweeteners derived from natural ingredients such as raisins, corn, monk fruit and birch trees.
Founded in Stockholm in 2017, the brand hit the shelves in the UK for the first time earlier this month, with a nationwide listing with WH Smith and selected Sainsbury's stores as part of the retailer's Future Brands programme.
Lagerqvist said the group was in talks with other major UK retailers for more launches next year.
"This fundraise will allow us to continue getting serious in the UK," he added.
"Our ambition is to be the global leader in fantastic tasting snacking that doesn't compromise your health, with the UK very much part of that plan."
Nick's hopes to become a household name in the UK as it grows distribution to thousands of stores around the country and ramps up its marketing and sampling campaigns.
The latest fundraising – which follows $60m raised in earlier rounds – is led by investment firms Kinnevik, Ambrosia Investments and Temasek. Gullspång, an early investor in Oatly, Peak Bridge, Capagro and Nicoya also took part in the round.
The funding will be used to further bolster European and North American growth through expanding the product portfolio and doubling Nick's store count in 2022. The business will also make significant investment in NPD, marketing and hiring more staff.
Established by founder Niclas Luthman, Nick's is currently sold across 16 international markets, including an expansion in the US from 4,500 stores in 2020 to 6,700 in 2021.
"My dream is to change our relationship with snacking into an entirely positive thing," Luthman said.
"This investment round will make our message heard and fuel the massive R&D effort ahead of us in making more and more snacks better-for-you and better for the planet."