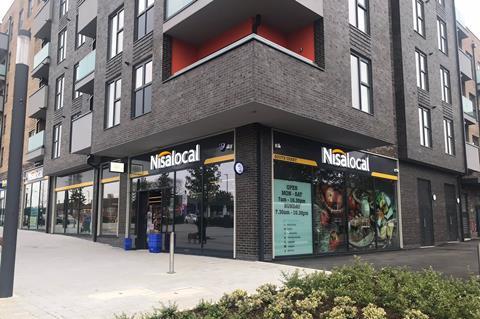 Nisa has converted over 120 stores to its latest Evolution format this year, more than doubling the number of stores under the format this time in 2020.
The symbol group said the boom in retailers looking to invest in their stores was in response to increased shopper demand.
The newly launched sites include 14 former Co-ops, as well as existing Nisa retailers who were looking to upgrade their stores.
LA Food Group's new store in Camden, which launched earlier this year, was also part of the mix and represented Nisa's 1,000th symbol store opening.
"We have seen a dramatic increase in the number of stores we are converting and turning over to Nisa fascia stores," said Darren May, head of format and development at Nisa.
"The number of new stores combined with those being developed by partners is really impressive as we see our partners re-evaluate their businesses in response to shopper habits and invest back into their businesses.
"With convenience stores now increasingly becoming a destination shop, the team has been working closely with partners to ensure they remain fit for purpose and are responding to the ever-changing demands of the customer."
Stores of all shapes and sizes can take on the Evolution format. The proposition has evolved to ensure current market trends are captured, the symbol group said. It also aims to support retailers in reducing running costs.
One of the latest elements is self-scan checkouts, which have been brought into the counter area to reduce the need for manned tills.
Meanwhile, the symbol group continues to report soaring store numbers with 401 new sites signed up this year. This follows the record-breaking year in 2020 in which 624 stores joined the business.
Recruitment for Nisa has been boosted by store growth among its multi-site retail partners including Ascona Group and Amacor. The latter made four acquisitions in quick succession during May and June, launching all four stores under the Nisa Local fascia. It is now on the hunt for more sites to add to its portfolio.
The recruitment drive has been supported by investments in price and distribution, it said. Earlier this year, Nisa announced it was investing £2m into cutting wholesale prices for retailers across both branded products and the Co-op own-label range. The aim was to keep retailers competitive and support sales margins.
Nisa also announced in March it was investing £7.5m into its logistics and delivery network. This included new temperature-controlled vehicles as part of its 'fleet refresh' programme, and improvements to chillers and freezers in its depot sites to cater to the growing partner demand for fresh.
"Following a record year for recruitment in 2020, we are pleased to be continuing this momentum this year with 401 new partner stores on board," said Nisa sales director Steve Leach.
"The sustained growth in new partners and stores is testament not only to the brilliant team at Nisa, who have gone above and beyond during the past 18 months in continually challenging circumstances, but to the strength of Nisa's proposition for independent retailers.
"This is where we strike the balance between recruitment and the support of existing partners, through our fresh thinking approach to partner support, competitive pricing and an unrivalled own-brand range."