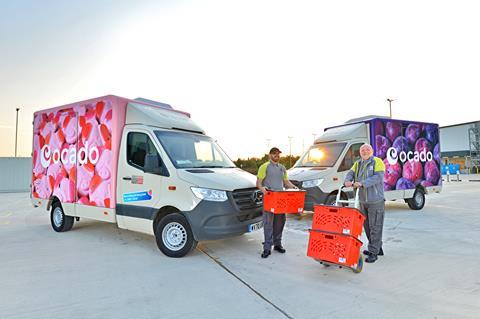 Ocado has begun delivering groceries from its new customer fulfilment centre in Purfleet, Essex.
It is Ocado Retail's sixth CFC and its opening coincides with the one-year anniversary of its switchover from Waitrose to M&S.
At 304,355 sq ft, Purfleet is Ocado Retail's second biggest fulfilment centre after Erith and once "fully ramped" will have capacity to deliver more than 80,000 orders per week. By comparison Ocado's flagship Erith CFC – located fewer than 10 miles away from Purfleet – is 573,000 sq ft and handles about 150,000 orders per week.
Once it reaches its peak order output, the site will employ an additional 1,500 people. Ocado said to speed up the ramp-up time, a number of employees, including approximately 40%-50% of the management team, have been hired internally.
Purfleet is the third Ocado Retail CFC to go live this year. Its new Andover site – rebuilt following a devastating fire in 2019 – recommenced operations in August. In March, Ocado launched its so-called 'mini-CFC' in Bristol, a 150,000 sq ft facility with capacity to fulfil more than 30,000 orders per week.
Prior to the going live of both Purfleet and Andover, Ocado Retail was delivering around 356,000 orders per week from Ocado.com, it said. Once the three new sites that have opened this year are fully ramped up, Ocado Retail will have increased capacity by 40% compared with 2020. The new locations take the online supermarket's total potential capacity to 600,000 orders per week.
Purfleet was an "exciting milestone in Ocado's journey" said Melanie Smith, CEO of Ocado Retail, "enabling us to deliver to more customers than ever before".
Capacity growth continues – a second mini-CFC is due to launch in the middle of next year in Bicester, and the rollout of Ocado's rapid delivery service Zoom continues, despite setbacks.
Today marks one year since Ocado's switchover from selling Waitrose products to M&S.
Ocado Retail – the joint venture between Ocado and M&S – said on average there were 16 M&S products in each customer's weekly shop, with that number growing to as many as 26 during key seasonal events like Christmas.
"Our partnership with M&S over the last year has seen our customers regularly add a wide variety of terrific M&S products to their baskets," said Smith. "Now with our increased capacity and slot availability, we're proud to bring our market-leading range, great value and unbeatable service to even more people across the nation."
The most popular M&S products sold on Ocado.com in the first year of the partnership have been:
· M&S seedless easy peelers
· M&S chopped Italian tomatoes
· M&S salad onions
· M&S Select Farms British semi-skimmed milk, four pints
· M&S Sweet & Crunchy carrots