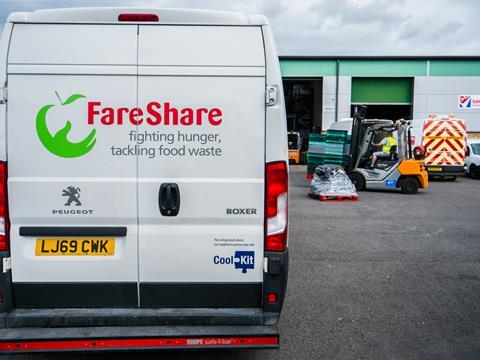 Booker has become the first major wholesaler to redistribute its surplus food directly to FareShare's network of charities and community organisations.
The wholesaler is also working with food sharing app Olio as it beefs up its efforts to reduce food waste.
Booker launched a trial in 11 cash & carry depots and two distribution centres in January, working with FareShare and Olio.
Through the FareShare Go programme, Booker sites are matched with charities and community groups in the local area that collect the items and turn them into food parcels or hot meals for the people they support.
FareShare organisations will make the majority of collections from Booker sites, typically five days a the week, while Olio volunteers known as Food Waste Heroes are lined up to collect on days when charities can't.
Booker said it would continue to roll out the food redistribution scheme across its branches nationwide and was already live in more than half its 196 depots. So far the three organisations have redistributed more than 250,000 meals worth of food.
"We are delighted to be working with Booker to help redistribute its surplus food to our network of charities," said FareShare CEO Lindsay Boswell.
"We received wonderful feedback from the teams that took part in the trial and we're thrilled that we're now able to support Booker to get even more food to people in need across the country.
"Demand for FareShare food has more than doubled since the start of the pandemic, and we are delivering upwards of two million meals per week to those in need, so this food is needed now more than ever."
Olio co-founder and CEO Tessa Clarke added: "Working with Booker and FareShare on this project is really exciting. We're incredibly grateful to both them and our Food Waste Heroes who will be collecting the surplus food and ensuring it reaches the local community. Schemes like this are instrumental in helping tackle food wastage across our communities so we are very proud to be involved."
Both FareShare and Olio have long-standing relationships with Booker owner Tesco. Last week the supermarket reported that by working with Olio it had prevented over five million surplus meals from going to waste in the past year.