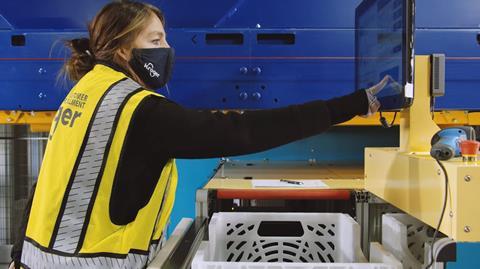 Ocado's autonomous warehouse picking system will soon work in "very small warehouses", paving the way for its use in convenience outlets and dark stores, the company has said.
Best known for robotic systems that pick groceries from huge 'grids' within Ocado and its client's large CFCs, Ocado's smallest automated warehouse to date has been its 'mini' CFC in Bristol, which is around 14,000 sq m in size.
But James Matthews, CEO of the company's technology division, revealed the next generation of its robotic platform will work in spaces "down to the single-digit hundreds of square metres".
Ocado's smallest warehouse is the one from which its rapid Zoom service operates, in Acton, west London, which is around 930 sq m in size. However, it is only "part automated", Matthews said, with the bulk of the picking done manually.
"However, this initial operation, which we started developing in 2016, is far from the final version of our product that will work in very small warehouses," Matthews told The Grocer on a Reddit forum. "We now have a more fully automated version of this warehouse ready to go."
Matthews indicated the debut of this smaller format automated warehouse would first be seen in South Florida, where Ocado has announced "two smaller-sized fulfilment facilities" with partner Kroger.
"So we won't have too long to wait now," Matthews said.
The South Florida site – Ocado's first Zoom-style micro fulfilment site in the US – will serve the immediacy market. According to Ocado Solutions CEO Luke Jensen, it is "testament to the breadth and flexibility of the offering we are helping to bring to Kroger shoppers".
Matthews said Ocado's tech was "fundamentally very modular and will work in a number of different footprints" adding that "we can't wait to show the world this in action".
In the UK, Interact Analysis predicts there will be 80 micro-fulfillment centres in the UK by 2023, be they in standalone dark stores or situated within larger supermarkets.
In the US, the market research firm predicts just under 700 automated micro-fulfillment centres will be installed by 2025 in the US grocery sector, up from just 23 at the end of 2020.
"Whilst this seems like a lot, it represents a small share of the total number of micro-fulfillment centres as the majority will be operated manually," said Rueben Scriven, senior analyst.
Ocado has struggled to win customers in the micro-fulfilment space: in 2020, Dematic was the automated micro-fulfilment centre market leader, accounting for 33% of project revenues, followed closely by Takeoff Technologies.
The global micro-fulfillment automation market is forecast to grow to just over $5.3bn in 2025, up from $136m last year – a CAGR of 108% according to Interact Analysis, with half of its value coming from grocery.