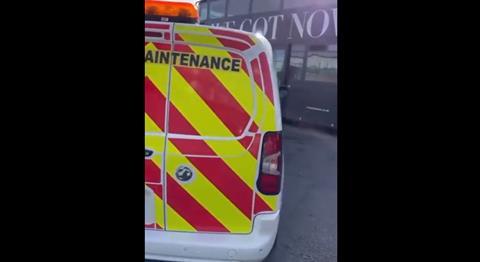 Ocado's rapid delivery service Zoom has been delivering orders in white vans marked Highway Maintenance, emblazoned with red and yellow chevron stripes and orange lights on their roofs.
Several ex Highway Maintenance vans are being used to deliver customer grocery orders "in a flash" from Ocado Zoom's Acton depot, with more than one still carrying the full livery of its former function.
Despite their standout appearance, one of the vehicles was involved in a collision with a bus on Friday as it left the depot. No one was injured in the incident.
"We're thoroughly investigating the cause of this incident but are pleased no-one was injured," Ocado said.
A video shot by a Zoom driver and shared with The Grocer shows other vans in the Zoom fleet have orange roof-top lights and chevrons, some yellow reflective stripes down their side, while others are unmarked. Ocado said that the vans were not current service vehicles, merely carrying an old livery.
"We recently leased new vehicles for our Zoom site and are awaiting the branding change for this particular van," Ocado told The Grocer.
Zoom's fleet of vehicles has had to quickly expand after Zoom couriers and riders were offered employment directly by Ocado at the start of October. They had previously been permitted to use their own vehicles when working for third party courier companies Stuart and more recently Ryde, but now no Zoom deliveries are being made by drivers using their own vehicles.
It is understood the van leasing company Ocado has sourced its expanded fleet from did not have time to remove the Highway Maintenance insignia.
According to those working at the Acton depot, Zoom is also utilising larger, standard Ocado delivery vans to meet the demand for its service which promises groceries well within 60 minutes.
The switch from third party courier services came in October, with Ocado saying "all of our drivers at Ocado Zoom are now part of our permanent workforce with certainty of hours, competitive remuneration, and access to employee benefits that we believe are market-leading".
The move came after allegations made in The Observer in August that Zoom drivers were getting paid below minimum wage. Ocado refuted the claims and the article is now the subject of a legal complaint from Ocado, according to The Observer.
Last week, a group of Ocado Zoom drivers and the IWGB union wrote to Ocado and M&S board members to say that since driver operations were brought in house "we have seen a huge decline in the service that you are offering". It also claims that many drivers have not been invited to join the company or been told there was "no job for us at all at Ocado".
Despite this, the letter says the Zoom service "rarely has enough drivers available to work".
A Twitter account, @ZoomOcado, confirmed as being run by drivers at the Ocado Zoom Acton site, blamed Friday's crash on "a reduced workforce that is majority new drivers that are being pushed to the limit and struggling to meet demand". Ocado strongly refuted the claims.